President Sisi receives Speaker of Hungarian National Assembly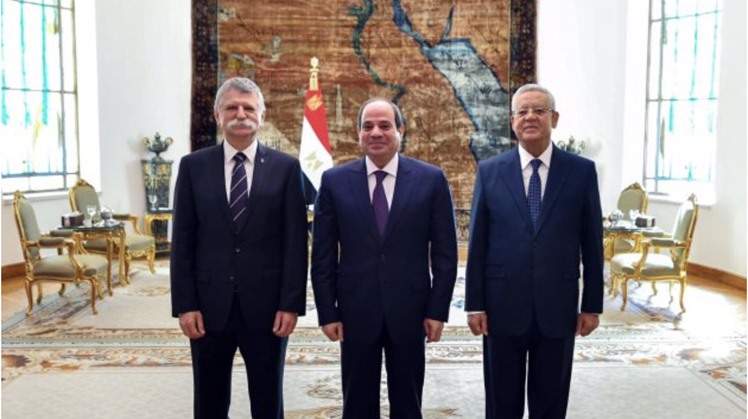 Mon, Nov. 21, 2022
President Abdel Fatah al-Sisi received Saturday Speaker of the Hungarian National Assembly Laszlo Kover to discuss the activation of cooperation frameworks previously agreed upon between the two countries.



The meeting also tackled a number of issues of mutual concern, precisely the global-level multifaceted repercussions of the Russia-Ukraine War.


The talks were also attended by Speaker of the House of Representatives Hanafy al-Gebaly and the Hungarian ambassador to Cairo.



The Egyptian president has been to the Hungarian capital, Budapest, in October 2021 to participate in Visegrad Group summit, which included Hungary, the Czech Republic, Slovakia and Poland.



That was the second time for President Sisi to take part in Visegrad convention since 2017, which reflects the keenness of the two sides to develop joint relations and discuss various issues of common interest.



The summit addressed Egypt's role in the Middle East, cooperation in the fight against terrorism and illegal immigration, and energy security. That is in addition to opportunities to develop trade, investment and tourism relations between the two sides, as well as ways to develop cooperation between Egypt and the European Union.



Hungarian Minister for Innovation and Technology László Palkovics called in June for boosting investments between Egypt and Hungary to pave the way for starting joint projects and pumping more investments into both countries.



In a meeting in Cairo with Egypt's Minister for Military Production Mohamed Ahmed Morsi, Palkovics said he seeks to support the Hungarian companies to cooperate with the Egyptian military production given their vital role in deepening and localizing industry.



The meeting gathered a Hungarian delegation led by the director general of the national defense industry company and Ambassador to Egypt András Kovács.