Egypt's President Sisi inspects New Administrative Capital projects in a tour by plane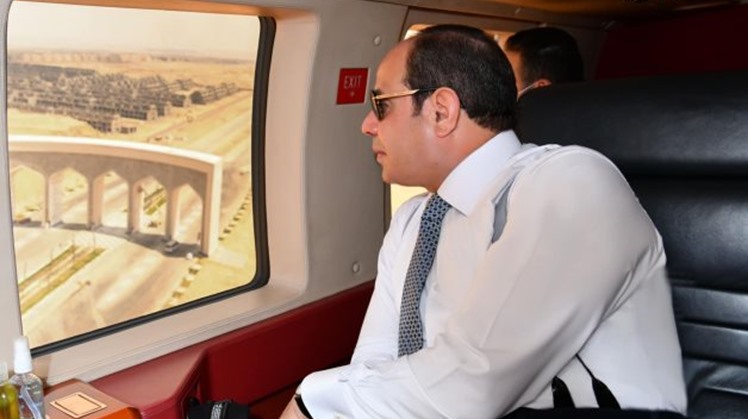 Thu, Sep. 8, 2022
CAIRO – 7 September 2022: Egypt's President Abdel Fattah El Sisi inspected on Wednesday the work progress of under-construction projects in the New Administrative Capital.

Sisi made his inspection tour by plane, according to a statement by Presidential Spokesman Bassam Radi.

During participating at the second edition of Egypt International Cooperation forum (Egypt-ICF), held in the New Administrative Capital, Sisi said the forum underlined the growing interest in the climate change issue, noting that the issue is part of priorities of the Sustainable Development Agenda.

He said the environmental dimension is the main axis for all development sectors.

He noted that the annual cost for alleviating the climate change impact by 2025 stands at about $800 billion.

President Sisi said Egypt is implementing programs to become number one at the international level in water treatment domain.

He said the tri-treatment mechanism goes in line with the World Health Organization standards.

He noted that there is a mega national project for benefiting from each drop of water.

He added that Egypt has mammoth programs for new and renewable energy in order to minimize the use of the stations depending on fossil fuel.

Sisi said "We have a chance for generating tens of thousands of megawatts from solar and wind energies," noting that great progress was realized in producing green hydrogen.

President Sisi said the 2050 national strategy for climate action focuses on food, water and energy security, referring also to the launch of NWFE platform to mobilize finance in collaboration with the international partners concerned with the climate issue.

He noted that the New Administrative Capital (NAC) is part of a grand Egyptian program for 4th generation smart cities with low-carbon emissions.

He said that Egypt plans to up its green investments from 40 percent to 50 percent of the total state investments by 2023-2024.

Sisi lauded the development partnership between Egypt and the EBRD, voicing hope for more cooperation in the coming period.