Egypt's Sisi urges turning Cairo's Nasser Institute into integrated medical city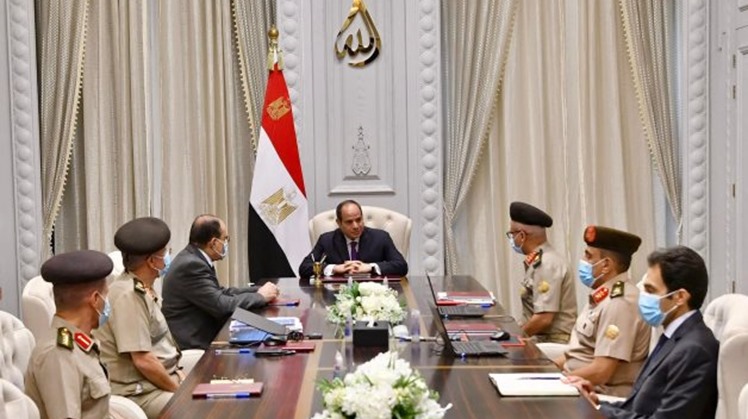 Mon, Aug. 1, 2022
CAIRO – 1 August 2022: Egyptian President Abdel Fattah El-Sisi has urged turning the renowned Nasser Institute hospital into an integrated medical city in a meeting on Sunday with Chairman of the Armed Forces' Engineering Authority Hesham El-Sweify.

Sisi urged boosting the capacity of Nasser Institute and raising the efficiency of its infrastructure by resorting to the international consultative experiences in this fields given that the institute constitutes an important pillar of the health system in Egypt.

The president reviewed the ongoing efforts to develop the institute by adding new affiliated buildings, developing the existing main buildings, adding 1,000 additional beds, establishing new surgery rooms and kidney units in cooperation with the Ministry of Health.

The meeting also followed up on the workflow at a number of projects of the Armed Forces' Engineering Authority nationwide, especially roads, bridges, construction projects, and the New Administrative Capital (NAC) projects.

In April, Sisi ordered the government to transform Nasser Institute into a research hub during a meeting with Prime Minister Mustafa Madbouli and Minister of Higher Education and Scientific Research Khaled Abdel Ghaffar.

The development plan for the institute includes new buildings for abdominal and pediatric diseases, outpatient clinics, a genetic disease research center and laboratory, as well as an airstrip, besides providing a river ambulance service, Abdel Ghaffar noted.

The development plan aims at expanding the oncology building, the Minister said, adding that the institute receives about 1.6 million patients annually.

Inaugurated in 1987, Nasser Institute has been one of the largest specialized medical centers affiliated with the Ministry of Health. It includes prominent and competent university professors and consultants.

The Nasser Institute is also one of the most prominent therapeutic institutions for oncology surgery in Egypt and the world and is in constant contact with the world's largest medical institutions.