Egypt's FM affirms to Kerry need that political will expressed by states be reflected on technical climate talks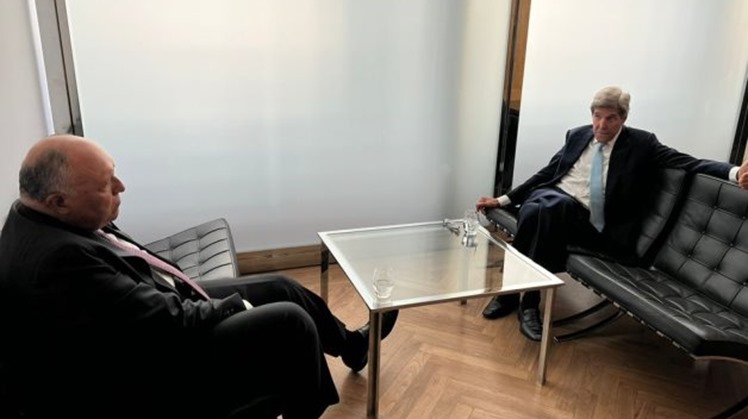 Thu, Jul. 21, 2022
CAIRO - 21 July 2022: Egypt's Foreign Minister and President-Designate of COP27 Sameh Shoukry highlighted the need that the positive political will expressed by various countries be reflected at the level of technical climate negotiations.

This is a matter that would contribute to enhancing confidence between the various parties to the climate negotiations, Shoukry said as he met on Tuesday with US Special Presidential Envoy for Climate John Kerry on the sidelines of Berlin-hosted Petersburg Climate Dialogue.

Shoukry hailed the level of cooperation with the US in climate change-related issues.

The two sides exchanged viewpoints toward the current status of the climate negotiations, especially in top priority issues, including adapting and mitigating the adverse effects of climate change and ways of providing climate finance.

Shoukry also shed light on Egypt's efforts to get viewpoints closer among the various parties.

The Egyptian foreign minister further said that he is looking forward to see a US high-level participation during the UN climate change (COP27) conference, which will be held in Sharm El Sheikh next November.

Egyptian President Abdel Fattah El-Sisi and Shoukry participated in the Petersburg Climate Dialogue held on 17-19 July ahead of COP27.

In a speech at the high-level session of the dialogue, Sisi affirmed that Egypt will spare no effort to make the COP27 a success.

Sisi said that recent climate change reports indicate that exerted efforts are still insufficient, "and that we must save the earth for future generations." Sisi also noted that the world needs a fair transition to green and renewable energy

"We must think about the losses incurred by developing countries, especially small countries in African countries. It is important that we think about doing more in terms of financing, as richer countries should play a bigger role regarding Climate change" Sisi said.

President Sisi, meanwhile, hailed the crucial role played by Germany to address climate change.