Egypt, Latvia sign agreement on cooperation in education, science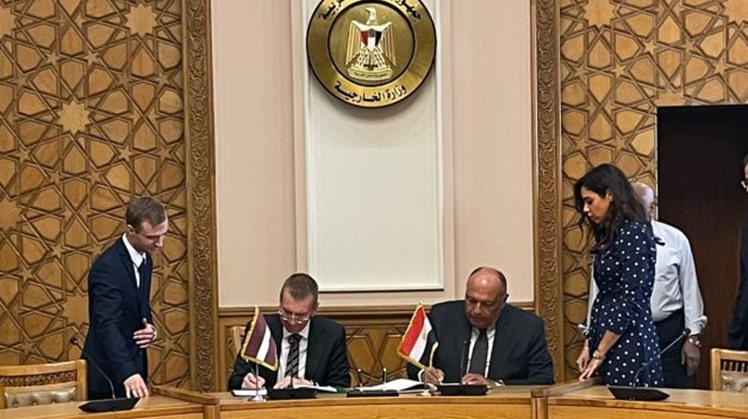 Tue, Jun. 14, 2022
CAIRO- 14 June 2022: Egypt's Foreign Minister Sameh Shoukry and his Latvian counterpart Edgars Rinkēvičs signed, on Sunday, an agreement on amendments to the Agreement on Co-operation in the field of Education and Science between both countries to promote cooperation in the fields of education and scientific research.



Both sides held bilateral consultations to discuss means of developing bilateral cooperation, especially in the political, economic and investment fields, as well as international and regional issues of common interest, said Foreign Ministry Spokesperson Ahmed Hafez.



The two Ministers held a joint press conference, announcing their bilateral meeting and discussed ways to enhance cooperation relations between the two countries in various fields.



Shoukry stressed that Egypt is looking forward to benefiting from what the Latvian state has achieved in the fields of technology and digitization in light of the renaissance that Egypt is witnessing towards reconstruction, technology orientation, and smart city building.



Foreign Minister Sameh Shoukry said the discussions touched upon the importance of increasing the volume of trade exchange and investments, especially in light of the potentials that It is located in the Suez Canal area and what Egypt has achieved in the field of economic reform, which allows Latvian companies to take advantage of the available advantages.



Minister Shoukry confirmed that both sides tackled issues of mutual concern, foremost of which are the Ukrainian-Russian crisis, the Palestinian issue, the situation in Syria, Libya and the Renaissance Dam, the food crisis, and the COP27 conference.