Egypt's First Lady, President Sisi witness inauguration of World Youth Theatre in Sharm El-Sheikh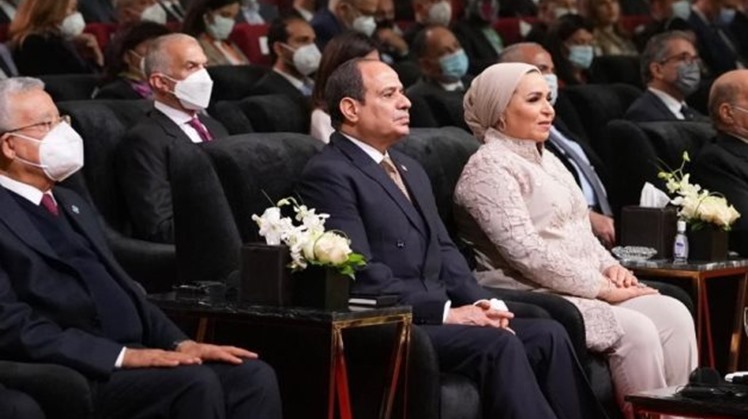 Tue, Jan. 11, 2022
CAIRO - 10 January 2022: President Abdel Fattah El-Sisi and his spouse First Lady, Entissar El-Sisi witnessed the inauguration of the World Youth Theatre in Sharm El-Sheikh, South Sinai.

Under the slogan 'We are all one," A number of bands from different nationalities have performed shows for the attendees, besides performing some shows by artists from Egypt, the USA, Sweden, Russia, Brazil, Tunisia, Morocco, Malawi, Tajikistan, Portugal, Serbia, Peru, Indonesia and Yemen. The shows were led by veteran Egyptian director Khaled Galal.

The main play sheds light on the state of humanity and how successive events and wars have distorted peace-loving humanity. The theatric play also focuses on the unknown that represents a global challenge, raising the question: Will humanity triumph over global differences and conflicts?


At the end of the performances, President Sisi thanked the director and all young artists who participated in the shows.


The World Youth Theater is a meeting point founded by youths for youths.

It brings together promising artists from around the world to present their talents and express their cultures through a variety of cultural and artistic activities.

The World Youth Theater launched its first edition at the World Youth Forum in 2018 and achieved unprecedented success, which encouraged the Forum's management to repeat the experience in the second edition of the World Youth Theater in 2019, and over two years, the World Youth Theater included 300 talents from 27 different nationalities.