Egypt's meets with UK Minister of State for Middle East and North Africa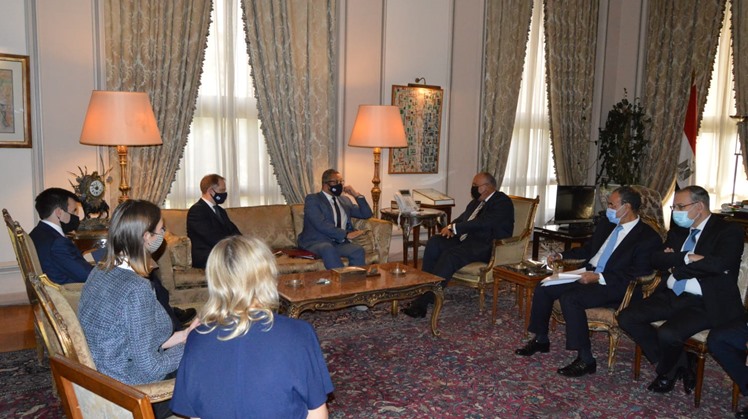 Sun, Oct. 17, 2021
CAIRO – 17 October 2021: Egypt's Minister of Foreign Affairs Sameh Shokry received in Cairo on Sunday UK Minister of State for the Middle East and North Africa James Cleverly to confer over a number of regional and international affairs of mutual interest.



The meeting began with hailing the development of bilateral ties over the past period, particularly after the association agreement went into force earlier this year, and after easing the COVID-19 travel restriction between both countries to enhance the movement of tourists and investors.



The agreement was signed in December 2020 to establish partnership and secure free trade between the two countries. It was planned to get activated after the completion of the UK's transition period to leave the European Union (EU) in January 2021.


Meeting of Minister of Foreign Affairs Sameh Shokry and UK Minister of State for the Middle East and North Africa James Cleverly in Cairo, Egypt on October 17, 2021. Press Photo


Minister Shokry expressed Egypt's support to the efforts deployed by the UK to host the 26th UN Climate Change Conference of the Parties (COP26) in Glasgow on October 31 – November 12. He added that Egypt looks forward to the contribution of the conference's outcomes in pushing forward the climate change combat agenda, including backing developing countries on that front so they would be able to achieve Paris Agreement goals. The minister also asserted Egypt's eagerness on hosting COP27.



Both minister exchanged views over the status quo of the Palestinian Cause, Libya, Syria, and Lebanon. Minister Shokry presented Egypt's stance on those issues, and its endeavors aimed at achieving the desired stability in the region.



On his side, Minister Cleverly conveyed his country's interest in advancing relations with Egypt, which is a strategic partner of the UK. He similarly commended the Egyptian role in reinforcing the foundations of security and stability in the Middle East.