UNDP regional director praises Egypt's steps to enshrine women as indispensable partners in meeting with NCW chief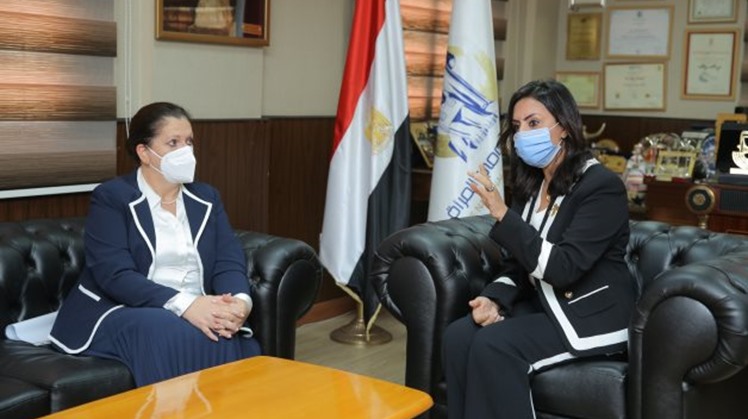 Thu, Sep. 9, 2021
AIRO – 9 September 2021: Khalida Bouzar, director of UNDP's Regional Bureau for Arab States, discussed with President of the Egyptian National Council for Women (NCW) Maya Morsy Egypt's steps to enshrine women as indispensable partners.

During their meeting, Bouzar thanked Morsy for supporting Egypt's Human Development Report 2021 process, "which puts forward approaches to advance the right to development in Egypt," UNDP Egypt said.

Bouzar also discussed with Morsy "how Egypt has enshrined the role of women as indispensable, active, and equal partners, in its pursuit of sustainable human development."

Bouzar participated in the first edition of Egypt's International Cooperation Forum (ICF) that started on Wednesday.

In her remarks at the ICF, Bouzar underscored UNDP's "close work with partners to support integrated national financing frameworks to accelerate investment in the [Social Development Goals] SDGs in more than 70 countries, including Egypt."

Bouzar also "emphasized that financing the SDGs requires looking closely at national operational and investment budgets and involving private and impact investment."

The ICF was launched by the Ministry of International Cooperation on Wednesday under the auspices of President Abdel Fattah El-Sisi.

It resumed its work for the second day in a row, with the participation of a group of the most prominent international institutions and major international and regional financial institutions, multilateral and bilateral development partners, representatives of the private sector and civil society, and government representatives of African, European and Latin American countries.

The forum's work on Thursday has included a series of workshops, organized by the Ministry of International Cooperation, with international institutions, starting with a workshop on "activating regional cooperation mechanisms under the African Free Trade Agreement" and the second workshop discussing "Sharing Egypt's experience in matching development finances with the UN development goals sustainable".

The third workshop revolves around "Women's Financial Inclusion: Supporting Women Entrepreneurs in Egypt… Launching the Women in Business Report from the European Bank for Reconstruction and Development" while the fourth workshop discusses "Food Security and Employment in Africa in the Age of Digitization… World Food Program."

As for the fifth workshop, it revolves around "Innovation and Entrepreneurship: Youth the locomotive of development in Africa and the Middle East." The participants in the sixth workshop will discuss "Tripartite Cooperation with the Continent of Africa."

The forum will conclude its work on Thursday, with a session on "Investing in Human Capital" with high-level local and regional participation, before the forum issues its final statement and recommendations on advancing global efforts to achieve sustainable development.

On Wednesday, the activities of the Egypt ICF were launched, under the auspices of President Abdel Fattah El-Sisi, with the participation of several ministries.

The forum is attended by high-level government representatives from Africa, Europe and Latin America, heads of international and regional financial institutions and representatives of the private sector and civil society.