The bracelets of Ramses II were found in Tell Basta and are displayed in the Museum of Civilization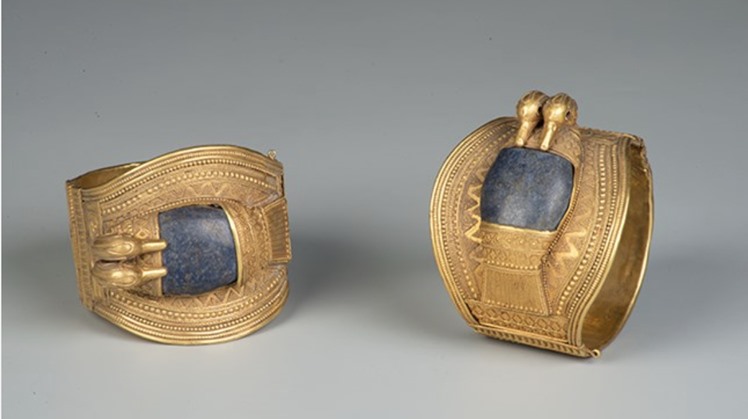 Tue, Jun. 13, 2023
The National Museum of Egyptian Civilization is the first museum of its kind in Egypt and the Arab world. It is an integrated global civilization complex that gives its visitors the opportunity to sail on a journey through history to learn about successive Egyptian civilizations. the second.

Bracelets of gold and lapis lazuli belonging to King Ramesses II, dating back to the 18th Dynasty, the reign of King Ramesses II, "1279-1213 BC". The material it was made of was gold and lapis lazuli, and it was found in Tell Basta - east of the Delta.

The idea of establishing the museum began when the United Nations Educational, Scientific and Cultural Organization "UNESCO" announced, at the request of the Egyptian government, an international campaign to establish the Nubian Museum in Aswan, and the National Museum of Egyptian Civilization in Cairo in 1982. The foundation stone was laid in 2002 in the heart of Fustat, the first It is the oldest Islamic capital in Africa, after the Egyptian architect won an international architectural competition to design the museum.

Construction work faltered until it was completely finished, and a temporary exhibition hall on Egyptian crafts across the different ages was opened in 2017, in the presence of Ms. Irina Bokova, former Director General of UNESCO, to reflect four crafts: pottery, wood, textile, and jewelry. All the equipment for the other halls of the museum has been completed, and His Excellency the President of the Republic opened the central exhibition hall and received 22 royal mummy that were transferred from the Egyptian Museum in Tahrir in a majestic procession in 2021, and a hall for Egyptian textiles was opened in 2022. The museum will host the School of Egyptian Civilization in September 2022 , which aims to increase tourist and archaeological awareness among citizens, as well as introducing foreign residents to the ancient Egyptian civilization.

The museum includes a variety of artifacts that shed light on the tangible and intangible heritage of Egypt, which helps visitors understand the Egyptian civilization through its various eras, starting from prehistoric times through the ancient Egyptian, Greek, Roman, Coptic, Islamic, modern and contemporary eras. The museum is a hall for mummies and a hall for Egyptian textiles.