Egypt's Min of Culture receives the President of the Executive Board of UNESCO to discuss joint cooperation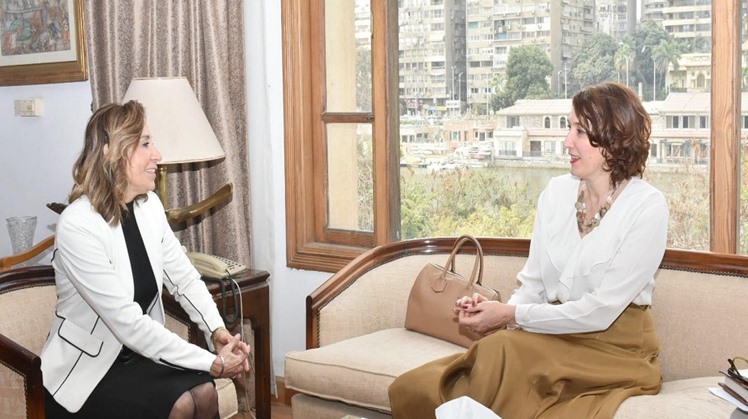 Tue, Mar. 7, 2023
Dr. Nevin Al-Kilani, Minister of Culture, received Tamara Rastovac, Chairman of the Executive Council of UNESCO, to discuss ways to enhance joint cooperation and exchange experiences in the fields of culture and heritage preservation. The meeting witnessed a review of several cooperation projects between the Ministry and the organization during the coming period.

The meeting discussed developments in the second phase of the development and restoration of the "Hassan Fathy Heritage Village" on the western bank of Luxor Governorate, a project that is being carried out in cooperation between the Ministry of Culture - represented by the National Organization for Urban Harmony - and UNESCO.

Dr. Nevin Al-Kilani appreciated the fruitful cooperation between the Ministry of Culture and UNESCO, noting that the coming period will witness the intensification of cooperation between them in many areas, including "preserving heritage, supporting creative industries, and registering more heritage elements on the representative list of UNESCO's intangible heritage," and others. .

For her part, the Chairperson of the Executive Board of UNESCO expressed her happiness at her presence in Egypt with its unique heritage and creative industries inherited over thousands of years, and confirmed that UNESCO is launching an initiative to support, document and introduce traditional and creative industries and crafts in the African continent, during the "African Culture Week". Which will be launched from Egypt, which will serve as a model to be circulated in the countries of the African continent.

The meeting was attended by Nuria Sanz, Acting Director of the UNESCO Regional Office for Science, Counselor Wael Abdel Wahhab, Director of UNESCO Affairs at the Ministry of Foreign Affairs, and Damiano Giampaoli, Assistant Director of the Executive Council of UNESCO.