Details of Egypt's Min of Culture's meeting with the Director of the British Council in Cairo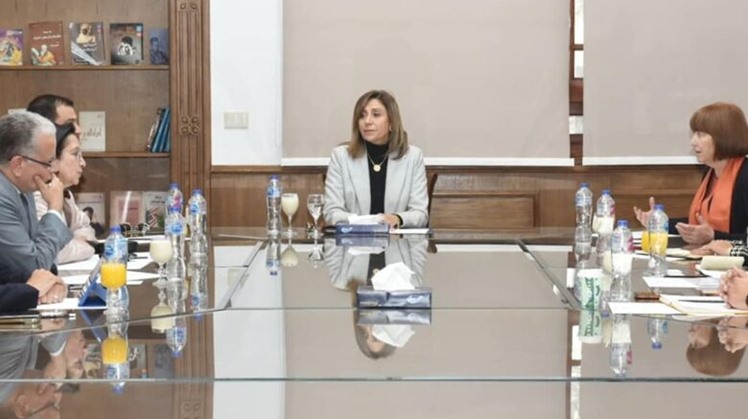 Mon, Jan. 16, 2023
Dr. Nevin Al-Kilani, Minister of Culture, received Dr. Elizabeth White, Director of the British Council, and her accompanying delegation, to discuss ways of joint cooperation. The meeting discussed means of cooperation in the fields of creative economy, methods of developing and preserving traditional crafts, and training youth.

Dr. Nevin Al-Kilani, Minister of Culture, expressed her happiness with this meeting, praising the continuous cooperation with the British Council, noting the Ministry of Culture's support for traditional crafts, and its interest in preserving them and training new generations, working to open new markets internally and externally, and marketing the creative economy digitally to ensure the continuity of our heritage.

The Minister of Culture directed the immediate start of cooperation steps between the Ministry and the British Council, and also invited the Director of the British Council to attend the opening of the Cairo International Book Fair, which will start from January 25 to February 6, 2023.

For her part, Elizabeth White, Director of the British Council, said that since 1984, the British Council has been doing a great job in Egypt, in terms of building relationships and cooperation, especially in the field of teaching foreign languages, adding that the center has recently started working in the field of cultural industries and the creative economy. In a hundred countries in the world, including Egypt.

She expressed her happiness at the initiation of steps to sign a protocol for cooperation between the British Council and the Egyptian Ministry of Culture, and explained that the Council targets all young people at all levels of education, as it provides training and infrastructure to implement projects in cooperation with various concerned authorities such as museums and specialized centers.

The Minister of Culture was invited to open a round table and discuss ideas with specialists to come up with new ideas for the development of traditional crafts, in addition to the possibility of sending 6 trainees to England for training in this framework.

The meeting was attended by a number of leaders of the Ministry of Culture, including Dr. Hani Abu Al-Hassan, Head of the Cultural Development Fund Sector, Artist Hisham Atwa, Head of the General Authority for Cultural Palaces, Dr. Walid Kanoush, Head of the Fine Arts Sector, Dr. Nahla Emam, Advisor to the Intangible Cultural Heritage at the Ministry of Culture.