Egypt's Min of Culture witnesses the launch of the 15th session of the International Samaa Festival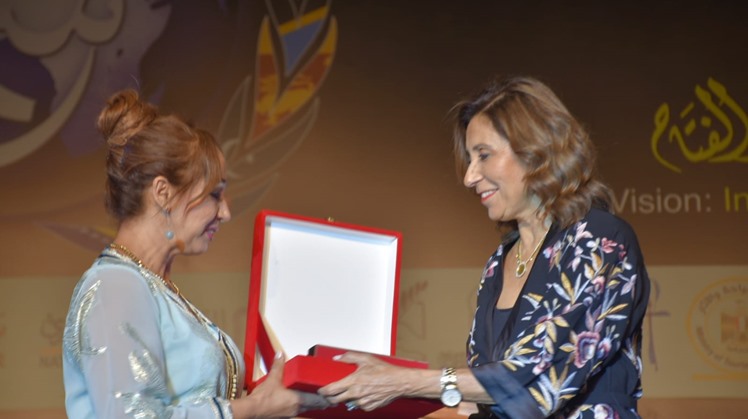 Sun, Sep. 18, 2022
Dr. Nevin Al-Kilani, Minister of Culture, witnessed the launch of the activities of the 15th edition of the Samaa International Festival for Chanting and Spiritual Music, under the slogan "Message of Peace", under the auspices of the Ministry of Culture, in cooperation with the Ministry of Tourism and Antiquities and the Dialogue Foundation for Arts and Cultures of Peoples, where the opening was held in the "Sur" area. North Cairo." The festival will continue until September 24, headed by the artist, Intisar Abdel Fattah, in the presence of Dr. Ashraf El-Araby, the former Minister of Planning, Follow-up and Administrative Reform, many ambassadors of the participating countries, and leaders of the Ministry of Culture.

The Minister of Culture honored: the artist Madanjit Singh "India" (received by the Cultural Counselor of the Embassy of India in Cairo), the great artist Uzair Hajibeli "Azerbaijan" (received by the Azerbaijani ambassador in Cairo), Sheikh Abdul Jawad Muhaisen "Tunisia", the artist Sabah Zidani "Morocco". From Egypt, Reverend Antonios Ibrahim Ayyad, and a special tribute to the able artist Samira Abdel Aziz, in addition to honoring the two countries of honor of the festival.

30 Egyptian and foreign bands will participate in the festival, and "Canada and India" will be the guests of honor for this session, with the participation of Romania, Algeria, Morocco, Jordan, Sudan, South Sudan, Indonesia, Lebanon, Yemen, Palestine, Syria, beside Egypt.

The festival activities will be held in many historical places in Cairo, the northern Cairo wall area, the Dome of Al-Ghouri, Prince Taz Palace, Beit Al-Sinari, the Religious Complex in Old Cairo, in which the celebration of the Forum of Religions (Here We Pray Together) will be held on September 22nd.