A folklore show at the seventh "African Child" Forum in the Children's Cultural Park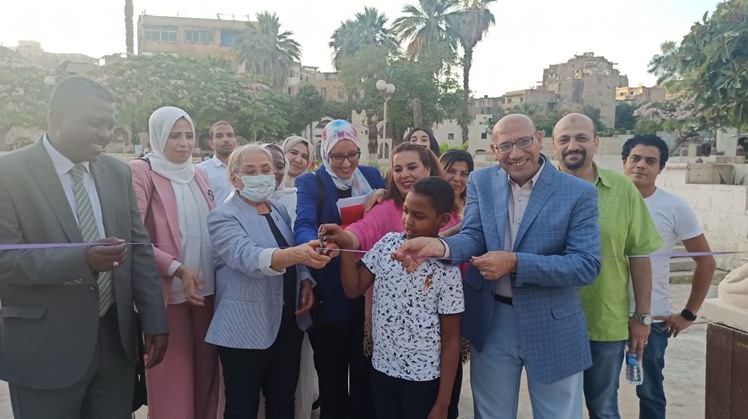 Mon, Jun. 27, 2022
The National Center for Child Culture, headed by the writer Mohamed Nassef, held the seventh "African Child Forum" yesterday, Saturday, June 25, in the Children's Cultural Park in Sayeda Zeinab, with the aim of strengthening communication between the children of the African continent, especially the Nile Basin countries, in cooperation with the Ministry of Foreign Affairs and the Foreign Cultural Relations Sector headed by Mr. Sabri Saeed, with the participation of a number of Arab and African embassies, including (Sudan - Libya - Morocco - Tunisia - Algeria - Senegal - South Sudan).

The activities began at five o'clock in the evening with the opening of the exhibition of children's drawings of the winners of the center's competitions, including the competition of Egypt in the eyes of the children of the world. The paintings of the winning children from the countries participating in the forum were displayed, and then the exhibition of products of African countries was opened, which displays heritage products that are famous for each country. The opening of the exhibition of the products of the small craftsmen's workshops. Dr. Hanim Sabra also held a panoramic workshop on Egypt and Africa. In the multi-purpose hall, the ceremony began, which included a number of technical paragraphs for the participating countries, including:

A review of the Children's Cultural Garden Folklore Troupe.

Presentation of "God is Witness" for the Cultural Park Theater team.

- The song "Mama Africa" ​​presented by the children of the Moroccan embassy community, in addition to a ballet performance.

Coral from the sister country of Sudan.

- Review of "With Love We Gather" for the Cultural Park Theater team.

The artistic activities concluded with a children's choir show "Salam" led by Maestro Wael Awad.

At the end of the ceremony, the embassies of the participating countries were honored.