Ministry of Antiquities Surveys the Tomb of Tutankhamun in search of Nefertiti's Tomb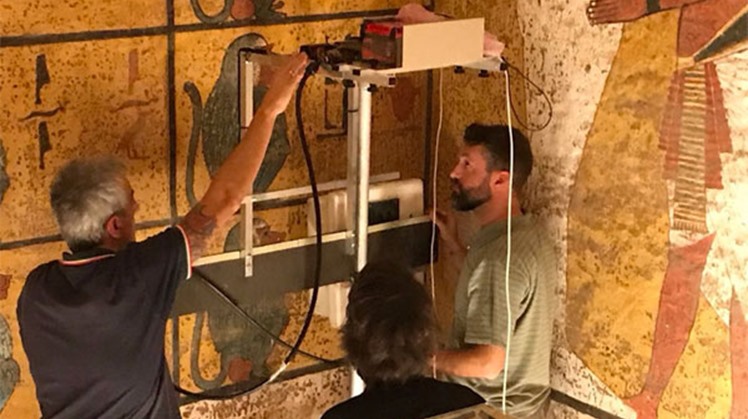 Thu, Jul. 11, 2019
Egyptian and British researchers conducted a survey using the radar on the Tomb of the Pharaonic King Tutankhamun, looking for a secret room believed to be where Queen Nefertiti was buried, according to British Egyptologist Nicholas Reeves. In 2015, Reeves suggested that the tomb of queen Nefertiti could be concealed behind the north and west wall paintings of Tutankhamun's burial chamber.

Under the supervision of the Ministry of Antiquities, a three-day survey of the cemetery will be conducted over the next three weeks

Queen Nefertiti is the wife of King Akhenaten, the famed 18th-century Pharaoh and mother in law of the golden king Tutankhamun. She is considered one of the most powerful women of ancient Egypt. She lived shortly after the death of her husband Akhenaten and helped Tutankhamun to take over the throne. The half-face of her painted face carved on a piece of limestone is a very famous piece, now displayed at the Berlin National Museum in Germany.

It is worth mentioning that Nicholas Reeves explained through his research that he had built his theory after a long study that lasted many years during which he visited various tombs of kings, queens and leaders of the ancient Pharaonic era, and he had full confidence in the presence of an archaeological discovery behind the tomb of Tutankhamun. Some researches proved that Tutankhamun's tomb was equipped for a woman and not a man, and this was what caught Reeves' attention that something was luring behind this fact…

"Through research and experiments, we found a door behind Tutankhamun's tomb, and there was a side room that was discovered by engineers and was equipped for royal burial," said Reeves. "If the colored lines were turned yellow into the cemetery, we find that the tomb of Tut consists of two rooms, All these evidence prove that behind the cemetery is a side room."

But on May 6, 2018, after several months of studies, the results of geophysical research conducted by the Scientific Mission of the Polytechnic University in Turin, Italy, showed that there were no rooms behind the walls of the tomb of King Tutankhamun.

In the scientific report submitted to the Egyptian Antiquities Committee at the Ministry of Antiquities indicated that the studies of the horizontal and vertical radar survey conducted by the mission inside the cemetery proved that there were no rooms or even signs of any crenellations or doors.

It is worth noting that the results of studies of the radar readings of GPR conducted by a scientific mission of Japan and the United States during the years 2015 and 2016 were different.

Reeves' theory has sparked widespread controversy among archaeologists in Egypt and the world who have been divided between supporters and opponents. We will have to wait and see the result of the survey.