The Director of the Bibliotheca Alexandrina receives the Secretary-General of the King Abdulaziz Foundation and the Saudi Ambassador in Cairo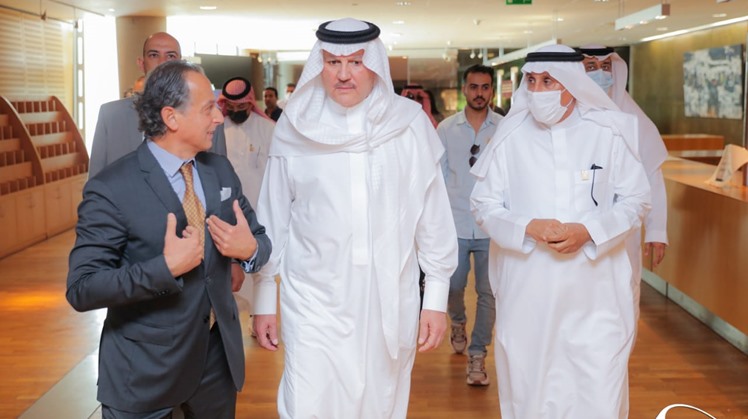 Tue, Sep. 14, 2021
Dr. Moustafa Elfeki, Director of the Bibliotheca Alexandrina, received Dr. Fahd bin Abdullah Al-Semari, Secretary-General of the King Abdulaziz Foundation, Kingdom of Saudi Arabia, and his accompanying delegation, which includes Ambassador Osama Naqli, Saudi Arabia's Ambassador in Cairo, and Saudi Consul General in Alexandria Mazyad bin Muhammad Al-Huwaishan .

Dr. Moustafa El-Feky emphasized the depth of the relations between Egypt and the Kingdom of Saudi Arabia, pointing out that everything related to the founding king is respected and appreciated for the vision he had that preceded his time.

Al-Fiqi praised the role of Darat Elham Foundation in collecting and preserving manuscripts, stressing that the memory of the nation and peoples must have a great deal of importance that requires preserving them.

For his part, Dr. Fahd bin Abdullah Al-Semary expressed his admiration for the library and the cultural and scientific role it plays, noting that Dara is in extended contact with the library, which possesses everything that is new and creative in various fields. Saudi Arabia is the two pillars of the Arab nation, and any damage to them affects the entire region.

Meanwhile, Ambassador Osama Naqli stressed that the library is a beacon of great intellectual and cultural radiation, expressing his happiness to be in it and to meet with the thinker Dr. El-Feki; "Being there makes us all proud," he said.

The delegation toured the library to get acquainted with its specialized libraries and various museums. The delegation also watched a quick presentation of the history of Egypt through the panorama from the era of the Pharaohs to the modern era.

Dr. El-Feki exchanged gifts with the delegation, as the library "Al-Samary" presented a number of its publications, including the volume "Cairo Photographic Memory", "Description of Alexandria" and "Alexandria: Past and Present", while the latter presented to "Al-Feki" the shield of "King Abdul Aziz House". And the book of His Majesty King Abdul Aziz bin Abdul Rahman bin Faisal Al Saud.