The Minister of Culture receives the Ambassador of Tunisia and confirms the launch of the activities of the Egyptian-Tunisian Cultural Year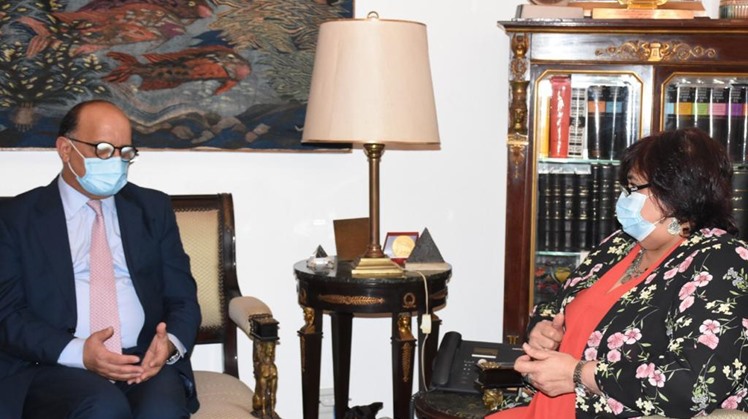 Thu, Jun. 10, 2021
The artist, Dr. Enas Abdel-Dayem, Minister of Culture, received Mohamed Ben Youssef, the Ambassador of the State of Tunisia in Egypt, and Mrs. Amira El-Hamdi, the Cultural Counselor at the Tunisian Embassy, ​​in the presence of Dr. Magdy Saber, President of the Egyptian Opera House, and Sabri Said, Head of the Foreign Cultural Relations Sector, to discuss ways to support Strengthening joint cooperation in various intellectual and artistic fields and discussing the agenda for the celebrations of the Egyptian-Tunisian Year of Culture 2021-2022, which was announced by President Abdel Fattah El-Sisi, President of the Republic in agreement with his Tunisian counterpart, Kais Saied.


Inas Abdel Dayem stressed that soft forces are a means of rapprochement between the peoples of the world and a bridge for exchanging diverse visions and creativity, pointing to the strength and depth of relations between Egypt and Tunisia and the emotional rapprochement between their peoples, and explained the importance of intensifying cultural and artistic exchange between the two countries during the coming period, through the implementation of the Year of Egypt activities. Tunisia, which aims to consolidate the bonds of friendship between the two brotherly countries, and announced its launch on June 23 in the evening as part of a cultural relations initiative organized by the foreign cultural relations sector in cooperation with the Supreme Council of Culture, after the agreement of the two sides.

For his part, the Ambassador of Tunisia praised the efforts of the Ministry of Culture in international communication, creating a distinct state of creative movement between Egypt and various countries of the world, praising the efforts to spread enlightenment in Egypt and expressed his happiness for the establishment of exchange activities that reflect the colors of arts and culture in the Egyptian and Tunisian societies and contribute to strengthening the idea of ​​meeting civilizations and intercultural dialogue.

At the end of the meeting, the two sides agreed to mobilize all joint efforts in order to make the year of Egypt and Tunisia in an optimal manner that befits the historical and cultural status of the two countries.