Egypt's Minister of Culture follows up the activities of the Book Authority and commends the launch of the Your Culture Your Book initiative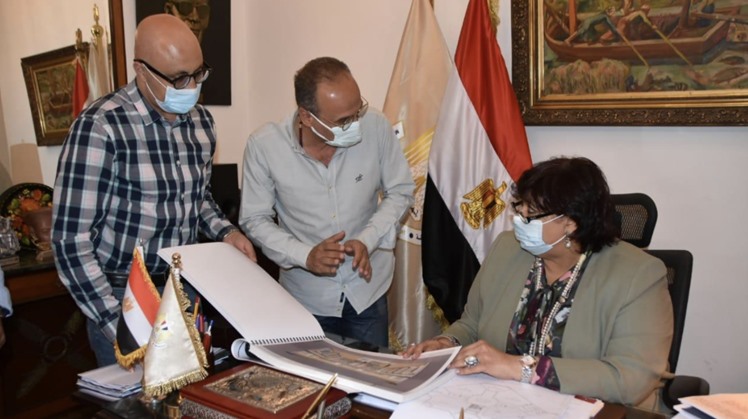 Wed, Jun. 9, 2021
The artist, Dr. Enas Abdel Dayem, Minister of Culture, Dr. Haitham Al-Hajj Ali and his deputy, Dr. Ahmed Bahy El-Din, met to discuss the arrangements for the 52nd session of the Cairo International Book Fair, which will be held under the slogan "In reading is life" during the period from June 30 to July 15, 2021 at the Egypt Exhibition Center International Fifth Settlement and the strategic partner.

Enas Abdel Dayem confirmed that Egypt is the most accommodating of publishers in international book fairs since the Corona pandemic, and directed the acceptance of all publishers who applied to participate in the exhibition this year and the stability of publishers' subscription prices, in addition to increasing the number of days of holding the exhibition for each year to reach fifteen days instead of two Ten days, in order to support the book and publishing industry and work to facilitate procedures for them, and to enhance the culture of reading and reading. It also followed up the necessary coordination measures with all parties, and reviewed the designs of the pavilions characterized by the pharaonic character, and stressed the commitment to all precautionary measures in order to preserve public health. For citizens and the application of the electronic reservation system to facilitate exhibition-goers according to the prescribed capacity.

The Minister of Culture also issued directives to launch the (Your Culture is Your Book) initiative during the current session of the exhibition, which includes hundreds of titles from publishing houses and sectors of the ministry, provided that the price of the book does not exceed twenty pounds, in addition to the virtual activities that will be implemented through the electronic platform of the exhibition.

For his part, Dr. Haitham El-Hajj Ali, head of the Egyptian General Book Authority, announced that the number of publishing houses exceeded 700 Egyptian and foreign publishers, in addition to agencies, and stressed the use of modern technology to control the number of pioneers daily in accordance with health standards and prescribed capacity, in addition to taking precautionary measures from Measuring temperature, sterilization, wearing a face mask, and maintaining social distancing, noting that the fair is the largest book and publishing market in the Arab world and alluded to the virtual holding of events and activities through the exhibition's platform and banning their actual establishment inside the Egypt International Exhibition Center in order to preserve the public safety of the public, publishers and workers .