The Minister of Culture inspects the new construction at the Academy of Arts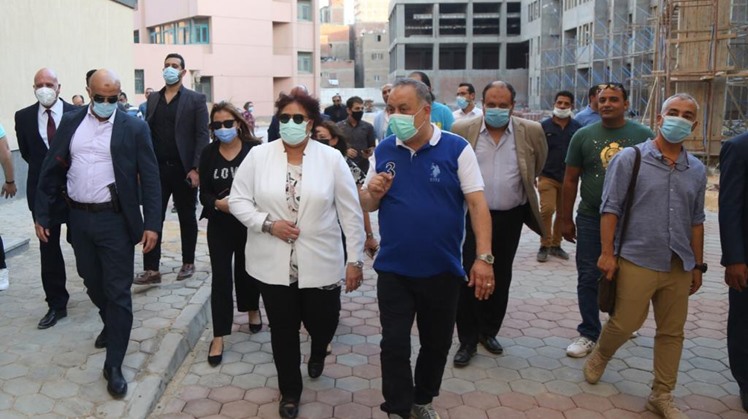 Mon, Jun. 7, 2021
The artist, Dr. Enas Abdel-Dayem, Minister of Culture, in the presence of Dr. Ashraf Zaki, President of the Academy of Arts, his deputy, Dr. Ghada Gebara, and Dr. Fathi Abdel-Wahab, Head of the Cultural Development Fund Sector, Dr. Medhat El-Kashef, Dean of the Higher Institute of Theatrical Arts, Dr. Fawzy Fahmy Halls Complex, visited the institute, which It includes 6 classrooms equipped with the latest technological technologies, and each of them bears the name of one of the symbols of Egypt among the pioneering playwrights, in addition to a seventh hall, which is a large studio equipped for students of the decoration department. I also inspected the bridge linking the academy and its old and new buildings and a number of outlets that were designated for industries products. The cultural and industrial project of Egypt, which is currently being implemented, has followed the progress of the construction of the new Roman theater.

Abdel Dayem said that the projects to develop and modernize the academy's structure come to activate the state's development goals, "Egypt Vision 2030," which are related to building personalities who understand the importance of preserving the ancient cultural and civilizational heritage. She added that the Academy of Arts is a unique educational edifice in Egypt and the Arab world and is working to prepare generations of capable innovators. To preserve the identity, she added that the Dr. Fawzy Fahmy complex is a rich addition to the construction structure of the academy, which is witnessing development and modernization at all levels, explaining that releasing the names of theatrical movement pioneers in the halls comes within the strategy of the Ministry of Culture to immortalize the icons of soft powers and in gratitude for their achievements.

Dr. Ashraf Zaki said that the Academy of Arts continues development operations at all educational and construction levels, as the works of the Roman theater, the new cinema institute, and the Library Street project will be completed on June 30, in addition to the inauguration of the hospital and student housing, and work is underway to prepare the places that have been designated as sales outlets and display for workshops. and industrial initiative products.

The Minister of Culture witnessed a documentary film on the executive stages of the Dr. Fawzi Fahmy Halls Complex project before and after the implementation of the works.

It is noteworthy that the Dr. Fawzy Fahmy complex is located on an area of ​​1,350 square meters and includes three levels, and its halls bear the names of "Dr. Sana Shafi', Dr. Karam Mutawa, Dr. Kamal Yassin, Dr. Zakaria Suleiman, Dr. Hani Mutawa, Dr. Samira Mohsen", in addition to a world-class studio. Dedicated to students of the decoration department, in addition to a gymnasium that includes the latest sports equipment and equipment for students.