Germany returns 4 stolen statues of 600 years BC to Egypt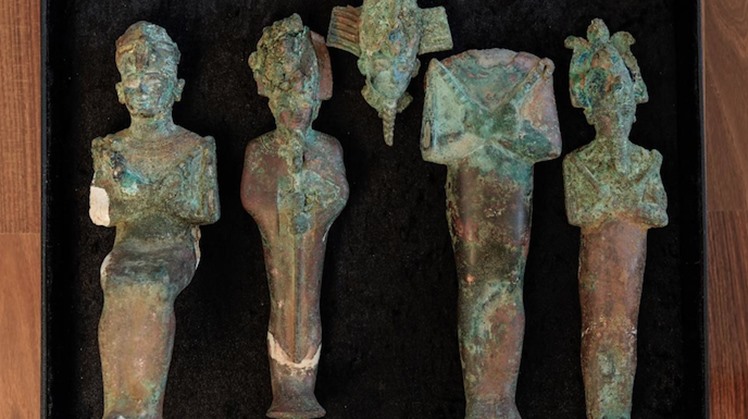 Wed, Sep. 30, 2020
Germany returned to Egypt 4 archaeological statues, as the head of the government of the German state of North Rhine-Westphalia, Armin Laschet, handed over to the Egyptian ambassador four antique statues dating back to the period between 600 and 400 BC.

These statues were confiscated during a security campaign, and according to state government data, the public prosecutor in Paderborn confiscated the statues in 2016 during investigations related to the circulation of stolen artworks, according to WM24, citing the German news agency, and at that time it was found. During inspections of the four statues on the living room table of a suspected restorer, and after the investigations closed, the Public Prosecutor released the statues to be returned to the Egyptian state.

Laschet handed over the statues to Egyptian Ambassador Khaled Jalal Abdel Hamid during his first visit to the state government headquarters in Dusseldorf.

"The cultural assets transferred as part of the cultural heritage of mankind are evidence of history and part of the cultural identity of every nation," Lachette said, expressing his happiness that he was able to return a small piece of cultural history with these four historical statues dating back to the late Egyptian era.

It is noteworthy that Dr. Soha Bahjat, the official spokeswoman for the Ministry of Tourism and Antiquities, said: Dr. Khaled Al-Anani, Minister of Tourism and Antiquities, met on a short visit to Germany, with a group of tourism officials, headed by the Minister of State for German Tourism Affairs, Chairman of the Tourism Committee in Parliament and Chairman of the Committee Corona crisis in Germany.

She added during a telephone interview with Sarah Hazem, presenter of the "Today" program, which is shown on the "dmc" channel, that this meeting comes within a series of meetings to discuss the return of the German tourism movement to Egypt, because Egypt is among the country that Germany has placed on the travel ban list.

And she continued: "The efforts made by Egypt during the last period to return the foreign tourism movement and ensure the safety of tourists in all the tourist areas that were opened were reviewed, and this was highlighted, and about 250 thousand tourists visited Egypt in this short period around the world, and no record was made. Coronavirus infections, and 700 hotels received a health mark certificate out of a total of 1,200 hotels that applied.