Watch the visit of the first French group to the Egyptian Museum after the resumption of tourism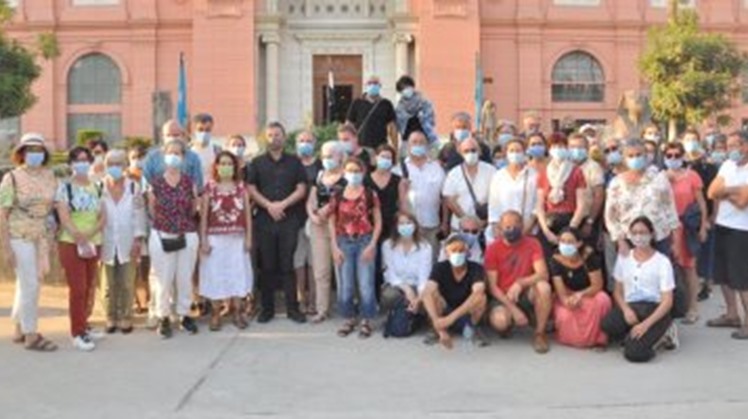 Wed, Sep. 16, 2020
The first tourist group from France visited the Egyptian Museum in Tahrir, after it visited the Saqqara and Dahshour antiquities area, about 14 days after the resumption of the cultural tourism movement, and the tourist group enjoyed a tour in the archaeological area, in which they expressed their happiness to visit Egypt to get to know its ancient civilization, and they wished If only the details of the archaeological discovery and the closed coffins that were found in the Saqqara area were announced while they were in Egypt, as the propaganda films that were published about him in the media and on various social media platforms had dazzled them and drew their attention to learn more about him and what these coffins contained.

It is worth noting that Dr. Mohamed Abdel Aty, Minister of Water Resources and Irrigation, received Dr. Khaled Al-Anani, Minister of Tourism and Antiquities, and his accompanying delegation, yesterday, Monday, to discuss the problems related to the tourism sector on the course of the Nile River, in the presence of the leaders of the two ministries and the President of the Egyptian Federation of Tourist Chambers. Continuing to provide support to tourist facilities in the Nile River and floating hotels, scheduling delinquent debts in past years, and emphasizing a package of recommendations promising more good for the tourism sector in the Nile.

Last week, Dr. Khaled Al-Anani, Minister of Tourism and Antiquities, held an expanded meeting with some investors, representatives of cultural tourism and hotel managers in Luxor, to discuss the conditions of the tourism sector in the governorate and listen to their demands and proposals to push and revitalize the cultural tourism movement after its resumption as of early September.

Investors presented a number of proposals to support cultural tourism, including allowing a PCR analysis to be conducted at Luxor and Aswan airports for tourists who were unable to provide a certificate stating that the analysis was conducted with a "negative result" "72 hours before the date of their visit to Egypt, as is the case at Sharm airports. Sheikh and Hurghada, which will contribute to increasing the incoming tourist movement to these two governorates, and they also demanded that the gold and boutique hotels in Luxor be granted a tourist license.