Egypt's success is critical for the stability of the region: WGP President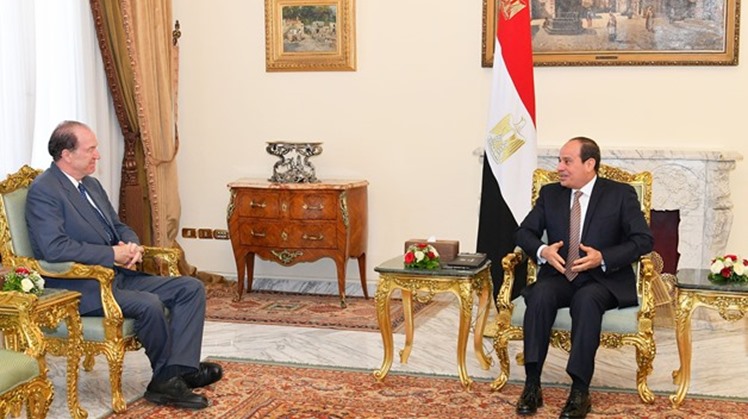 Sun, May. 5, 2019
CAIRO - 5 May 2019: President of World Bank Group (WGP), David Malpass, hailed on Saturday, May 4, Egypt's efforts of overcoming financial challenges it faced over the past few years.

This came during a meeting with Egypt's President Abdel Fatah al-Sisi, in which they discussed Egypt's economic reform process, presidential spokesperson Bassam Radi said

Malpass commended Egypt's economic reform, which positively resulted in increasing growth rate, decreasing unemployment rate, and inflation decline, besides establishing a number of mega-projects for development, the statement added.

During his two-day visit to Egypt, Malpass has inspected a number of Egypt's mega-projects, including Benban Solar Park, world's largest solar park, in Aswan, the statement said.

The meeting, which was attended by Minister of Investment and International Cooperation Sahar Nasr, and Chief of Egypt's General Intelligence Abbas Kamel, tackled other social projects in Egypt, especially the program of allocating 250,000 housing units for 1.5 million residents of slums. They also discussed the bilateral cooperation in the fields of health, infrastructure, education, industry, and the small and medium size enterprises (SMEs).

Moreover, the pair reviewed the steps taken within the framework of the social protection network to alleviate burdens from citizens as one of the main pillars of the economic reform programme, and progress made in the implementation of national projects that provide more opportunities for youth, Egypt's development map and attract more investments, taking into account that all these efforts were made in parallel with Egypt's efforts to restore security and stability, combat terrorism and control borders, as well as Egypt's active role in its unstable regional environment.

The WBG President's visit to Egypt is the first trip since he assumed the post in April 2019.

"Egypt's success is critical for the stability of the region", he said in a statement by the World Bank on Friday. "We welcome President Sisi's implementation of powerful reforms while recognizing the need for further progress including on subsidies, governance, debt transparency, and state-owned enterprises," WBG President added.

"Egypt has a tremendous opportunity to strengthen its economy by expanding the private sector – including energy, tourism and agri-business – to create more jobs and higher living standards. The World Bank Group looks forward to participating in the next vital phase of the reform program, including support for education, health care, social protection and poverty reduction, so that growth benefits everyone," he said.