President Sisi meets Israeli FM, asserts Egypt's ongoing efforts to achieve comprehensive peace in region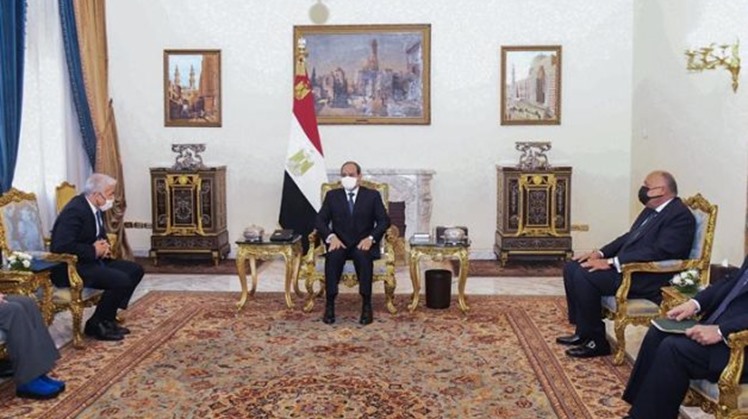 Fri, Dec. 10, 2021
CAIRO- 9 December 2021: Egypt's President Abdel Fattah El-Sisi met with Israeli Foreign Minister Yair Lapid in Cairo-based Presidential Palace, on Thursday, discussing the bilateral relations and the Palestinian-Israeli cause, and the reconstruction of the Gaza Strip, said Presidential Spokesperson Bassam Radi in a statement.

"The President affirmed Egypt's ongoing efforts to achieve a comprehensive and just peace in the Middle East on the basis of the two-state solution and the international legitimate laws, in a way that achieves security and stability and opens up prospects for cooperation and development for all the peoples of the region," said Radi.

The meeting was attended by Egyptian Minister of Foreign Affairs Sameh Shoukry, Head of General Intelligence Abbas Kamel, Director-General of the Israeli Foreign Ministry Alon Ushpiz, Foreign Policy Advisor at the Israeli Ministry of Foreign Affairs Yair Zivan, and Israeli Israeli ambassador to Cairo Amira Oron.

The meeting dealt with aspects of bilateral cooperation between the two countries in various fields, in addition to issues of common interest in the regional and international arenas, especially the Palestinian issue.

President Sisi also focused on Egypt's efforts for reconstruction in the Gaza Strip, adding that Egypt will continue its efforts related to preventing an outbreak of tension between the Palestinian and Israeli sides, Radi continued.

Yair Lapid is paying Cairo a one-day visit on Thursday to hold a session of talks.

On September 13, 2021, President Sisi met with Israeli Prime Minister Naftali Bennett in the Egyptian city of Sharm El-Sheikh, where they held bilateral discussions. President Sisi reiterated Egypt's support to all efforts to achieve a comprehensive peace in the Middle East based on the two-state solution and international legitimacy resolutions.