Bright Star 2021: Egypt's multinational exercise to boost security ties with states involved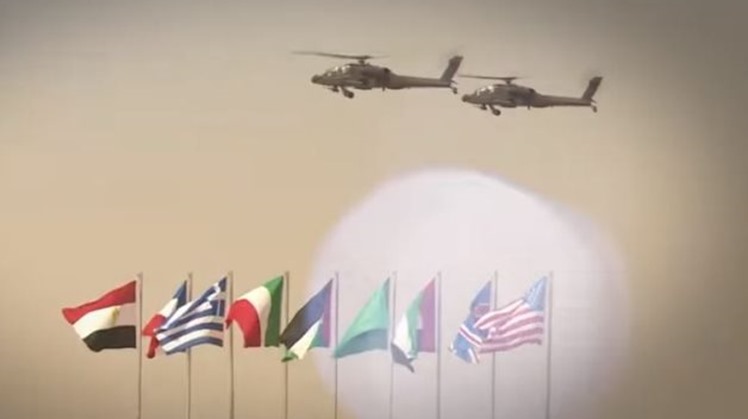 Mon, Sep. 6, 2021
CAIRO – 6 September 2021: Egypt has started its multinational military exercise "Bright Star" on 2 September with the participation of 21 countries to enhance security ties with the countries involved.

The exercise, which is set to extend until 17 September, is taking place in the Mohamed Naguib base in the northern Matrouh governorate.

The military spokesman published an infographic on Sunday to explain the goals of the exercise and the countries involved, including the United States, the United Kingdom and France.

According to the spokesperson, Arab countries participating besides Egypt are Saudi Arabia, Jordan, Iraq, Bahrain, Sudan, Morocco, Kuwait, the United Arab Emirates and Tunisia.

The exercise also includes other African countries, including Kenya, Nigeria and Tanzania.

This is in addition to Cyprus, Italy, Spain, Greece and Pakistan.

The goals of the exercise, according to the spokesman, include training on atypical combat acts, developing joint work and getting to know the latest international combat systems.

Enhancing the strategic and security ties between the countries involved, exchanging expertise and developing the combat techniques among them are also part of the goals, according to the spokesman.

Egyptian-Cypriot military training "Ptolemy 2021" kicked off on Thursday with the participation of special forces from both countries.


The first phase of the exercise includes holding a set of theoretical and practical lectures, with the aim of unifying combat concepts and refining the skills of the participating forces.

The exercise comes as part of the Armed Forces' plan to exchange expertise and boost military cooperation with sisterly and friendly countries, as well as advance joint action with their Cypriot counterparts.

Egypt's paratroopers and commandos concluded a joint training that involved the US troops with the aim of countering terrorism, a statement by the military spokesman read last week.

The drills, named "SOF03" and "SOF06," lasted for several days, according to the statement.

The exercises were conducted within the framework of joint training programs carried out by the Egyptian Armed Forces with a number of sisterly and friendly states to exchange military expertise, the statement added.

The training showed the special performance of the forces and the firm cooperation and coordination to implement all tasks required with efficiency, the statement added.

According to an earlier statement by the spokesman, the American commander, expressed his deep appreciation to the Egyptian Armed Forces for hosting the Bright Star 2021.

He also hailed the warm reception and hospitality, stressing that the United States considers Egypt one of the most important strategic partners in the region.

The leaders of the participating forces expressed their happiness with the high spirits of the participating forces from various countries, hoping that the Bright Star 2021 exercises would achieve their planned goals in a way that strengthens the relations of military cooperation between the armies of the participating countries.