Egypt's FM: External parties should not interfere in Sudanese conflict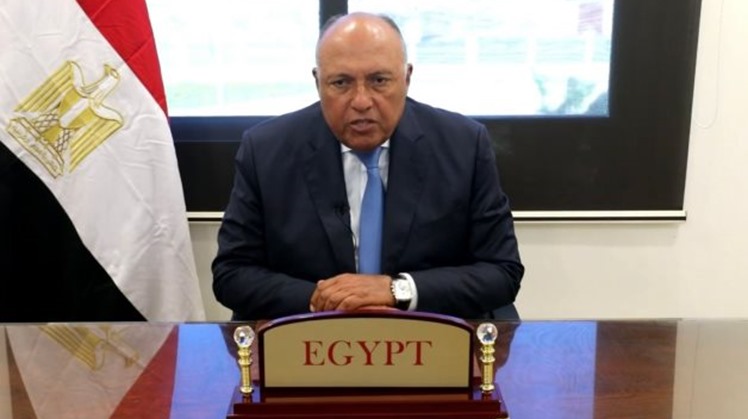 Tue, Apr. 18, 2023
CAIRO - 18 April 2023: Egyptian Ministry of Foreign Affairs Sameh Shoukry, received a call this evening, on April 17, from French counterpart Catherine Colonna to discuss the current developments in Sudan.


The French Foreign Minister expressed, during the call, her country's deep concern as a result of the ongoing military confrontations and their worsening impact on the lives and safety of civilians, said Egyptian Foreign Ministry Spokesperson Ahmed Abu Zeid in a statement.

The two sides agreed on the need to work towards reaching a ceasefire agreement as soon as possible and resolving the differences between the parties through negotiations, in order to prevent bloodshed of the Sudanese people, and return the country to the peaceful political path.



Both sides stressed that any external party should not interfere in this conflict. According to the statements of the official spokesperson, Sameh Shoukry updated his French counterpart on the efforts made by Egypt to stop the ongoing conflict, including the results and recommendations of the recent Arab League Council meeting.

Clashes erupted in several locations in the center of the Sudanese capital between the Sudanese Armed Forces and the Rapid Support Forces (RSF) paramilitary fighters. The Sudanese army and the RSF are trading accusations regarding who started the clashes.



On the same day, Shoukry made two phone calls with Mr. Mahmoud Ali Youssef, Minister of Foreign Affairs of the Republic of Djibouti, and Deng Dau, Acting Minister of Foreign Affairs of South Sudan, on the Sudanese crisis, said Abu Zeid in another statement.



These two calls came within the framework of the membership of the two countries in the presidential delegation to be dispatched to Sudan by the African Intergovernmental Authority on Development (IGAD) organization for mediation, in addition to the announcement by the Egyptian and South Sudanese presidents of the readiness of the two countries to mediate between the Sudanese parties.



Shoukry stressed the importance of dealing with the current conflict as an internal matter, calling for integrating all efforts to preserve the stability and safety of the state of Sudan and its people, and for reaching an immediate ceasefire between the conflicting parties.