Egypt's FM conveys message of solidarity from President Sisi to Syrian people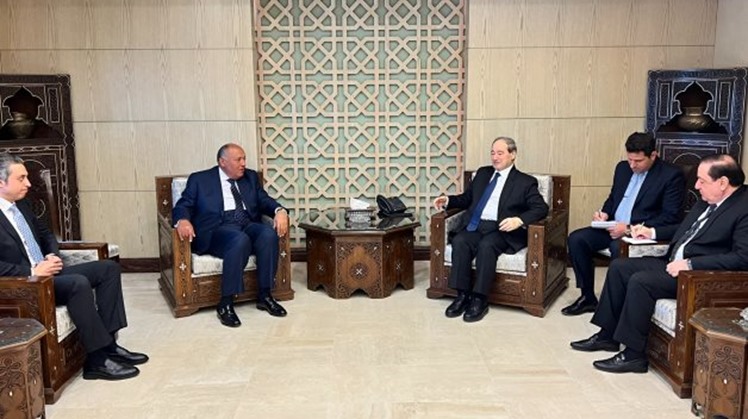 Mon, Feb. 27, 2023
CAIRO – 27 February 2023: Egypt's Foreign Minister Sameh Shoukry arrived Monday in Damascus on a visit to show solidarity with the Syrian people in the wake of the devastating earthquake that hit the country earlier this month.

Syrian Foreign Minister Faisal al Meqdad received Shoukry upon his arrival, as the two top diplomats held bilateral talks, according to spokesperson for the Foreign Ministry Ahmed Abu Zeid

Shoukry also meet with Syrian President Bashar al-Asad, as he expressed his happiness visiting Syria.

Shoukry also conveyed a message of solidarity from President Abdel Fattah al Sisi to the Syrian president to confirm solidarity with Syria and Egypt's readiness to continue its support to face the effects of the earthquake, Syrian News Agency, SANA reported.

Shoukry pointed out that both of the Syrian and Egyptian people have humanitarian and historical ties, adding: "We are here to support our brothers in Syria, and our coordination with the Syrian government started since the first days of the earthquake."

Shoukry affirmed, that Egypt provided more than 1,500 tons of aid to Syria after the devastating earthquake.

Syrian Minister of Foreign Affairs Faisal Al- Meqdad, confirmed in a press statement that Egypt's leadership and people played a major role in facing the catastrophic consequences of the earthquake, adding: "When Egypt's Minister of Foreign Affairs comes to Damascus, he comes to his family and his country."

Egyptian ship loaded with hundreds of tons of relief materials departed Al-Arish port Friday, per president Abdel Fattah al Sisi directives heading to Turkey and Syria.

The aid ship comes as part of the Egyptian efforts to help deal with the consequences of devastating earthquake that hit southern Turkey and Syria on Feb. 16, leaving more than 48,000 people dead.

On Thursday, Egypt sent two military planes carrying medical and humanitarian aid to Turkey for the victims of the deadly 7.8-and-7.4 magnitude earthquakes.

Two military planes took off from East Cairo Air Base, heading to Turkey, carrying large quantities medicines and medical supplies provided by the Egyptian Ministry of Defense and the Ministry of Health and Population, the Ministry of Defense announced in a statement.

Meanwhile, an Egyptian ship of the naval forces carrying humanitarian aid has arrived to both Turkey and Syria, in accordance with directives given by President Abdel Fattah El Sisi.

Earlier in February, the president ordered dispatching five military planes to deliver urgent medical relief supplies to earthquake-hit Syria and Turkey. In the former, Egypt also sent the first international team providing support to the Turkey-Syria earthquake victims.

Further, an Egyptian ship loaded with about 500 tons of relief materials arrived in Syria's Lattakia Port on Monday to help deal with earthquake effects and support relief efforts. The cargo was intended to the Syrian Arab Red Crescent (SARC).