Egypt, Serbia agree on deepening cooperation in agriculture, investments in Sisi's first visit to Belgrade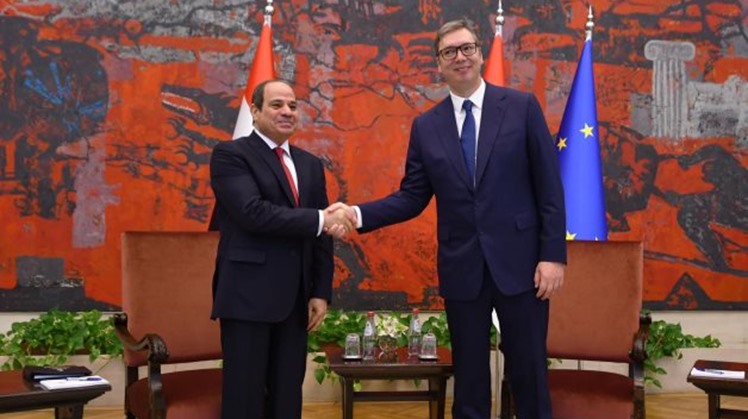 Thu, Jul. 21, 2022
CAIRO – 21 July 2022: Egypt's President Abdel Fattah al-Sisi and his Serbian counterpart Aleksandar Vučić agreed on Wednesday to explore wider horizons of cooperation that may help counteract the impact of the Ukrainian crisis on other economies.

The Serbian president said his country looks forward to mutual investments and maximizing trade and to create a leap in economic relations, especially in terms of Serbian companies participating in national mega projects in Egypt.

For his part, Sisi, who was visiting Belgrade for the first time, welcomed cooperation in the fields of the military, economic, trade, and tourism. He also explained efforts to counteract climate change and its hosting of COP27 this year.

"The Egyptian position approaches all paths leading to calm and a peaceful resolution to the conflict and making all efforts to achieve that whether at the bilateral, regional, or international levels. It also emphasizes the importance of alternatives and solutions that ensure that peoples are spared the adverse effects of the Russian-Ukrainian crisis," Sisi said in a press conference in the Serbian capital.

The Egyptian side also presented its initiative that formed a ministerial communications group the Arab League in April to visit Moscow and Warsaw and meet with the foreign ministers of the concerned countries to find a settlement and spare the world the scourge of war.

They also touched on food and energy security while the Russian-Ukrainian crisis continues. A joint committee that studies opportunities for economic and scientific cooperation, as well as trading agricultural goods and IT expertise.

The two leaders the situation in Libya, Yemen, and Syria, where Vučić commended Egypt's role in finding a political settlement for every crisis in the region. He also praised buildings communication bridges between African and Arab states on the one hand and European states on the other.

As they tackled terrorism and illegal immigration, Vučić praised Egypt's role in fighting extremist ideology and preventing any ship carrying migrants from leaving the country's shores in years.