Egyptian, Cypriot FMs: We continue consultations on regional issues, East Mediterranean Gas Forum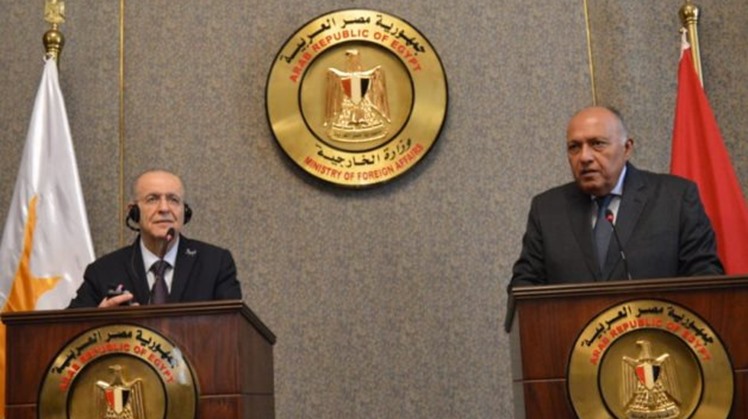 Fri, May. 27, 2022
CAIRO – 27 May 2022: Egypt and Cyprus continue to coordinate and consult on the situation in Libya and the Palestinian issue and activate the East Mediterranean Gas Forum, said Egyptian Foreign Minister Sameh Shoukry in a joint press conference with his Cypriot counterpart Ioannis Kasoulides on Thursday in Cairo.



"We will continue coordination and consultation to achieve the interests of the two countries," Shoukry said, adding that both sides work on enhancing stability in the eastern Mediterranean.



The Egyptian minister praised the role of Cyprus in strengthening relations between Egypt and the European Union, saying "Cyprus is working to convey the Egyptian point of view to its European brothers."



Cypriot Foreign Minister Ioannis Kasoulides expressed his country's desire to strengthen relations with Egypt, as well as relations among the three countries Egypt, Cyprus and Greece.



Kasoulides said that Egypt plays an important role in Libya to establish security and stability and exerts positive efforts in the Palestinian cause, especially in the Gaza Strip.



He added that Egypt's hosting of the climate change conference (COP 27) due in November 2022 is an important and pivotal event, as Egypt takes on a successful role in the region.



Shoukry received his Cypriot counterpart in Cairo to discuss bilateral relations and advance cooperation in several fields, most importantly trade, energy, and investments.



On January 25, 2022, Shoukry received a phone call from Kasoulides, in light of the close relations that bind the two friendly countries.



Minister Shoukry congratulated his Cypriot counterpart on assuming his new post, and invited him to visit Cairo. Minister Shoukry also expressed that he is looking forward to be jointly working with Kasoulides to advance the close relations between the two countries, and promote cooperation in various fields.