Egypt's Minister of Health travels to China Sunday evening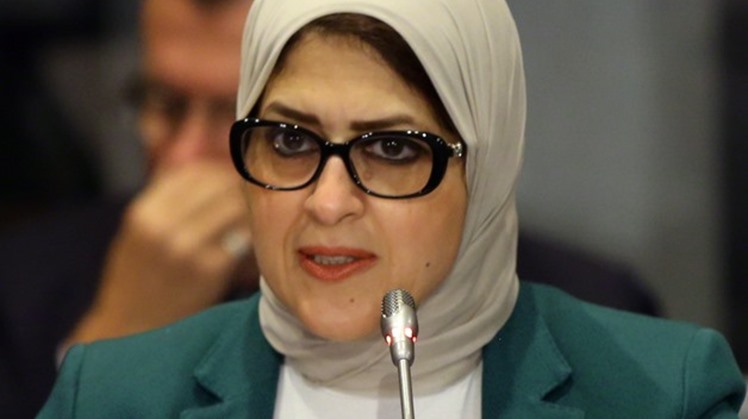 Sun, Mar. 1, 2020
CAIRO - 1 March 2020: Egypt's Minister of Health Hala Zayed will travel to China on Sunday evening and will hold a press conference at the Cairo International Airport to reveal more information about her visit, said the Ministry Spokesperson in a statement on Sunday.

Ahead of her scheduled flight, the minister met with President Abdel Fatah al-Sisi and Prime Minister Moustafa Madbouli to follow up on the updates of coronavirus and the government's contingency plan on a national level.

On Sunday, presidential spokesperson Bassam Rady said the meeting tackled the developments of the novel virus worldwide, and Egypt's measures against it.

Sisi instructed that the readiness level be increased in cooperation with all the concerned parties of the state, and awareness campaigns be launched to guide Egyptians and provide them with precise information. He also ordered stricter health control at Egypt's ports of entry in accordance with the highest standards possible.

The Ministry of Health denied on Sunday media reports claiming that two suspected cases of coronavirus 2019 (COVID-19) were quarantined for 14 days in al-Nagila Hospital in Marsa Matrouh, said the ministry spokesperson Khaled Megahed in a statement.

The spokesperson affirmed that Egypt is currently free from coronavirus, saying "such news is groundless." He added that Egypt is dealing with the matter transparently in accordance with the international standards and in cooperation with the World Health Organization (WHO).

Megahed said that all the state's air, ground, and maritime outlets are on alert to prevent passing the virus to others, calling on the Egyptian media outlets to be cautious and check facts when dealing with the matter.

Al Shorouk newspaper reported an anonymous medical source that two cases suspected to carry coronavirus were quarantined in Egypt's Marsa Matrouh.

In remarks to "Al Hikaya" talk show on MBC Masr channel, Minister of Health Hala Zayed said Egypt is free from the virus and new cases have not been detected, saying "It is likely that coronavirus could be passed to Egypt."

Egypt was the first African country that reported a coronavirus case for a Chinese person in February. Earlier, the ministry's spokesperson said in a statement that the Chinese patient tested negative after receiving the treatment and that he is not in quarantine anymore.

However, the Ministry of Health in France announced on Friday that two French tourists, who arrived from Egypt, tested positive for the virus. Moreover, David Williams, medical officer of health in Ontario, said on Friday that eight cases, including a man coming from Egypt, tested positive for the virus in Toronto's Ontario, CBC reported.

Later, the Egyptian Ministry of Health announced that it is in contact with France and Canada after the two countries confirmed cases with coronavirus disease coming from Egypt.

In a press conference held on Friday, WHO Director-General Tedros Adhanom Ghebreyesus announced that the total number of coronavirus cases around the globe reached 83,310 cases, including 78,959 in China. "Also, 2,858 deaths have been reported so far," he added.