Egypt's Sisi discusses with CIA director ways to enhance security and intelligence cooperation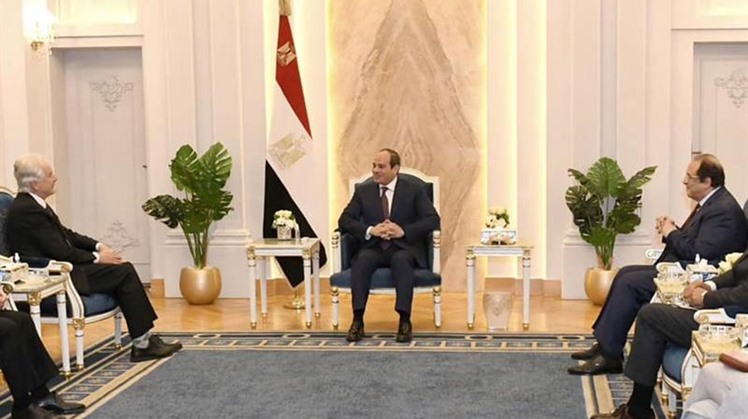 Mon, Jan. 23, 2023
CAIRO – 23 January 2023: President Abdel-Fattah El-Sisi discussed with US Central Intelligence Agency director William Burns in Cairo on Monday the means to enhance security and intelligence cooperation between the two countries

During the meeting, Burns asserted that the United States looks forward to developing cooperation relations and partnership with Egypt during the coming period especially amid regional and international crises.

The meeting was attended by the Chief of the Egyptian General Intelligence Service (GIS), during which he stressed strong Egyptian-American relations, Egyptian Presidency's spokesman Bassam Radi said in a statement.

Sisi for his part stressed the importance Egypt attaches to enhancing the firm relations with the US in various fields, especially with regard to security, intelligence, and supporting efforts of restoring stability in the Middle East amid the current challenges.

Burns affirmed that Washington looks forward to enhancing cooperation with Egypt in light of its weight in the Middle East and its role as a pillar of security and stability in the region.

The meeting discussed means of enhancing security and intelligence cooperation between Egypt and the US, the spokesman said.

The officials also discussed developments of regional and international issues of mutual concern.

Sisi asked to convey his greetings to US President Joe Biden.

Burn's visit comes a month after President Sisi had made a busy multi-day visit to the US, where he participated in the US-Africa Leaders Summit.

During his visit, Sisi delivered a speech at the summit's closing session on promoting food security and food systems resilience and held meetings with a number of top US officials, including US Secretary of State Antony Blinken, and lawmakers.

Egyptian Presidential Spokesman Bassam Rady also posted photos for Sisi and US President Joe Biden while shaking hands and sharing a laugh at the summit.

Egypt and the US commemorated last year the 100th anniversary of the establishment of their relations.