Judicial Cooperation MoU between US, Egypt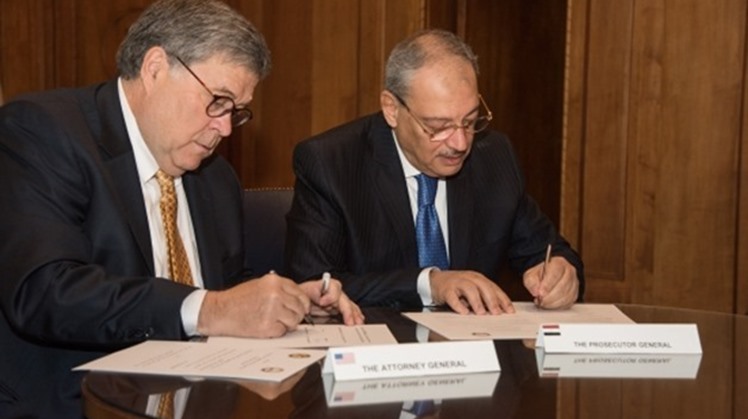 Sun, Jul. 28, 2019
CAIRO – 26 July 2019: A memorandum of understanding for judicial cooperation was signed by Egypt's Attorney General Nabil Sadek and United States Attorney General in Washington at the beginning of July.

This MoU is the first of its kind, Sadek said, affirming Egypt's willingness to cooperate with the world countries in this regard.

Judicial cooperation between the prosecution services in other countries of the world has a very good impact on capacity building, exchange of experiences and combating crime in various forms.

In a press statement, Sadek said that the protocol of cooperation with the US comes in light of the mutual desire to work for the benefit of justice and the establishment of the rule of law, as well as extending cooperation between the two countries and emphasizing the fruitful effects of judicial cooperation.

It also aims at exchanging experiences between the two sides in the common legal fields and the introduction of modern technologies, Sadek added.

Further information about the MoU signed between the two sides was not provided by the Egyptian statement.

However, the United States Department of Justice said that the MoU promotes further cooperation in the "fight against transnational crime".

"The MoU reflects the importance of the continued law enforcement cooperation of Egypt and the United States. It will strengthen the partnership of the US and Egypt to fight against terrorism, transnational crime and other criminal activity," the US statement read.

"In particular, this MoU allows the US and Egypt to increase consultation on mutual legal assistance. It also will allow for the broader exchange of ideas and practices to enhance the capabilities and experience of our prosecutors," the statement added.