Egypt's Sisi discusses counterterrorism efforts, border security with CENTCOM commander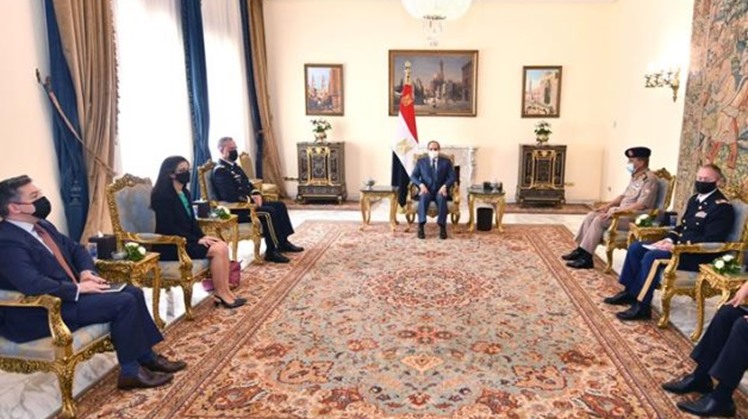 Mon, May. 9, 2022
CAIRO – 9 May 2022: Egypt's President Abdel Fattah El-Sisi received Lt. Gen. Michael E. Corella, the commander of US Central Command in the Middle East (CENTCOM) on Monday at the Cairo-based Presidential Palace.

During the visit, the two parties discussed means to advance military and security cooperation between Egypt and the United States.



They also tackled cooperation in combating terrorism, joint training programs, border security, and the latest developments regarding a number of crises and files in the region, especially the security of the Red Sea, said Egyptian Presidential Spokesperson Bassam Rady in a statement.



"It was agreed to continue regular bilateral consultation and coordination between the two sides on issues of common interest to the two friendly countries," said Rady.



The meeting was attended by Egyptian Commander-in-Chief of the Armed Forces Lt. Gen Mohamed Zaki, the Minister of Defense and Military Production, in addition to the Head of the US Office of Military Cooperation-Egypt, CENTCOM Political Adviser, and the Chargé d'Affairs of the US embassy in Cairo.



At the beginning of the meeting, President Sisi welcomed the CENTCOM Commander's visit, stressing the importance of joint military cooperation between Egypt and the United States.



Rady added that the Egypt-US relation is an essential pillar for maintaining peace and security in the Middle East, especially amid the ongoing developments that require concerted efforts to confront the challenges that threaten security and stability, foremost of which is terrorism.



Lt. Gen. Michael E. Corella expressed his honor to meet the President, stressing that he was keen to make Egypt the first stop of his foreign visits to the region since taking office in January 2022. He also affirmed his country's full solidarity with Egypt in combating terrorism as the most dangerous common challenge facing the region and threatening regional security as a whole, Rady added.



The US Commander stressed that the US administration relies on the active and pivotal role that Egypt plays in the Middle East and North Africa because of President Sisi's broad experience and deep understanding of the conditions and challenges. He noted that this experience is reflected in efforts exerted by Egypt to enhance the regional peace and security that require the continuation of the joint Egyptian-US military cooperation and the development of strategic bilateral relations.



Lt Gen. Corella also offered condolences to the President for the martyrs of the armed forces who were martyred by the treacherous terrorist attack that took place on Saturday in Sinai.