Egypt's Sisi discuss Egyptian-US relations with Oregon State Senator Ron Wyden in Cairo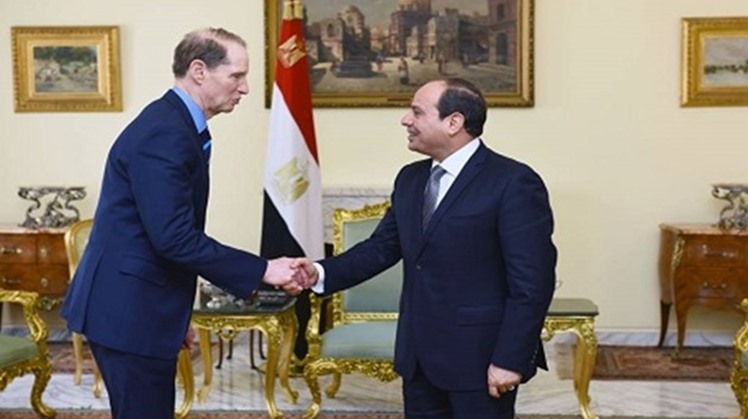 Mon, Apr. 22, 2019
CAIRO – 22 April 2019: Egypt's President Abdel-Fattah El-Sisi met with Oregon State Democratic Senator Ron Wyden on Sunday in Cairo to discuss Egyptian-US relations.

The meeting was attended by Head of the Egyptian General Intelligence Abbass Kamel and Egypt's Foreign Minister Sameh Shoukry.

During the meeting, President Sisi highlighted the long-standing relations between Egypt and the United States and Egypt's keenness to enhance these relations on all levels within the framework of mutual respect and common interest, particularly in light of the turbulent situation in the region and the rising threat of terrorism.

"President Sisi is keen to contact all Congress' leaders within the framework of mutual cooperation and consultation between the two countries," presidency spokesperson Bassam Rady stated.

Sisi reviewed Egypt's efforts to combat terrorism and extremism and underscored the country's peerless trials to carry out comprehensive economic reform and sustainable development and settle disagreements and political conflicts in the region.

For his part, Senator Wyden expressed appreciation for the level of cooperation between the two countries, mentioning that Egypt is a pillar of security in the region and praising its role in maintaining stability and strengthening the bases of peace in the Middle East.

"Egypt is a pivotal strategic partner of the US in the region," Wyden said.

Egypt's presidential spokesperson Bassam Rady added that the meeting touched upon the ongoing developments in the region, especially Libya and Syria.

The president warned of the dangers threatening national states in the region, stressing that the political settlement of crises must be carried out in parallel with the fight against terrorist organisations in the region.

The two presidents also mulled the latest developments in the Palestinian issue, with El-Sisi affirming Egypt's position on reaching a just and comprehensive solution that preserves the rights of the Palestinian people and establishes an independent Palestinian state in accordance with international legitimacy.