Wed, Apr. 10, 2019
CAIRO - 10 April 2019: President Abdul Fattah al-Sisi attended the dinner hosted by the American Chamber of Commerce to welcome him into the States. The dinner was at the Chamber's headquarters in Washington, DC, in the presence of the First Vice-President of the American Chamber of Commerce and the Chairman of the Egyptian-American Business Council, as well as the presidents and directors of many major American companies.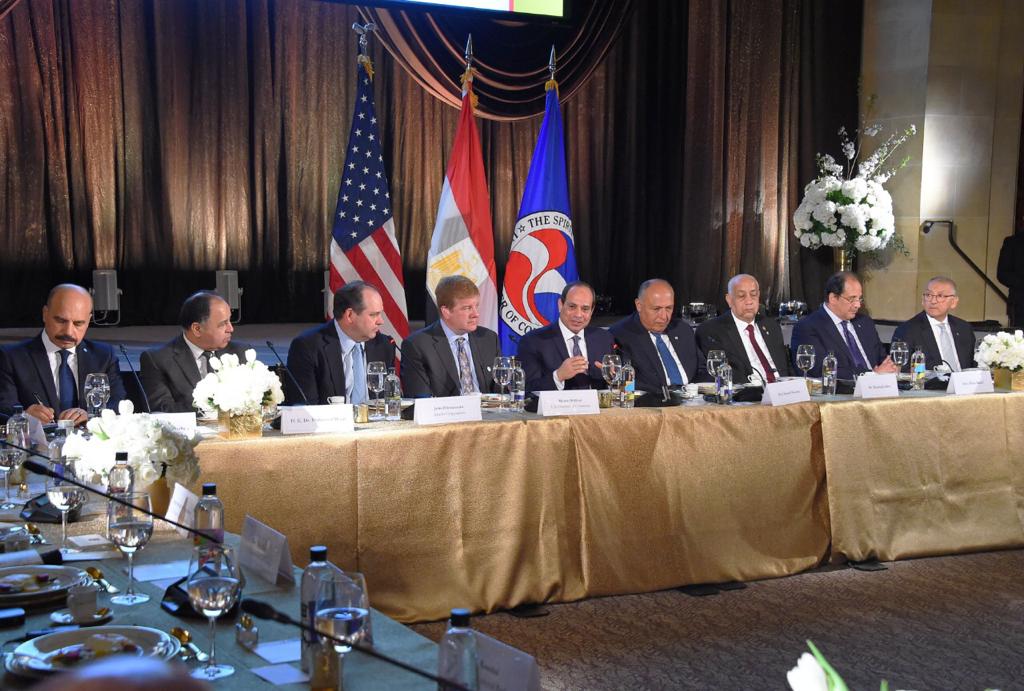 Ambassador Bassam Radi, Spokesman for the Presidency of the Republic, said that the dinner witnessed an open dialogue with representatives of the American business sector, who expressed interest in working in Egypt or expanding their existing projects.
"The President affirmed Egypt's keenness to continuously communicate with investors to identify the problems and obstacles that we are facing. He expressed his appreciation for the role played by the American Chamber of Commerce and the Egyptian-American Business Council in supporting economic and trade relations between Egypt and the United States, pointing out the importance of the role of the private sector in this framework, as a catalyst for growth through increased investments, the transfer of knowledge and experience to serve the common interests of the two countries." Declared Ambassador Bassam Radi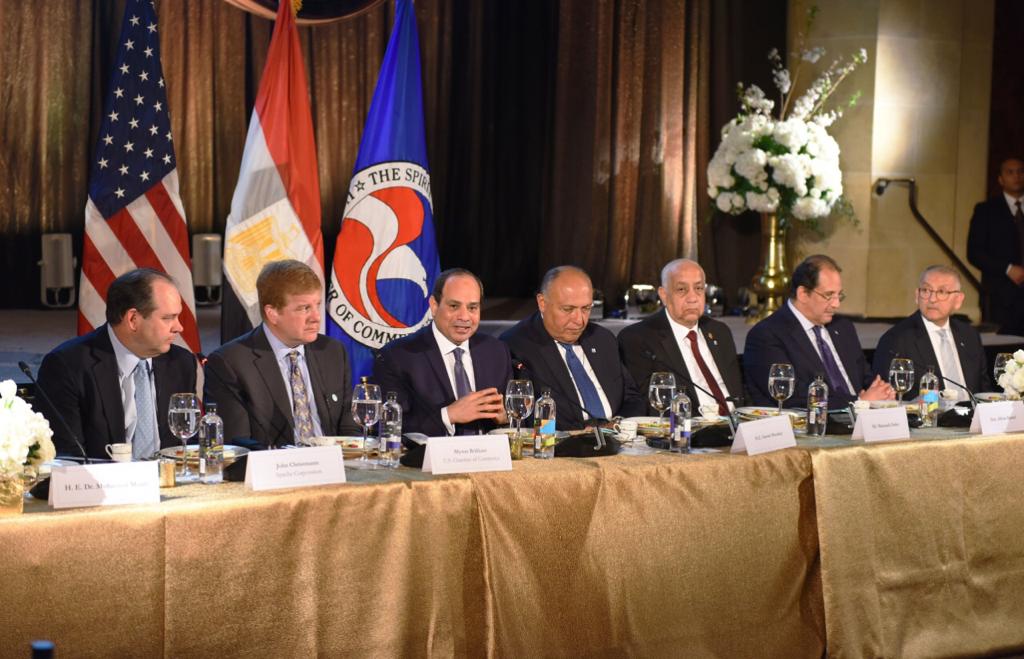 President Al-Sisi referred to the fruitful discussions he held today with President Trump in the White House, especially in the economic sphere, where the focus was on ways to develop economic cooperation, maximize the volume of trade exchange between the two countries and increase the investment activities of American companies in Egypt, especially in the light of the implementation of the comprehensive economic reform program and the creation of the legislative and institutional structure to attract more foreign investments to Egypt.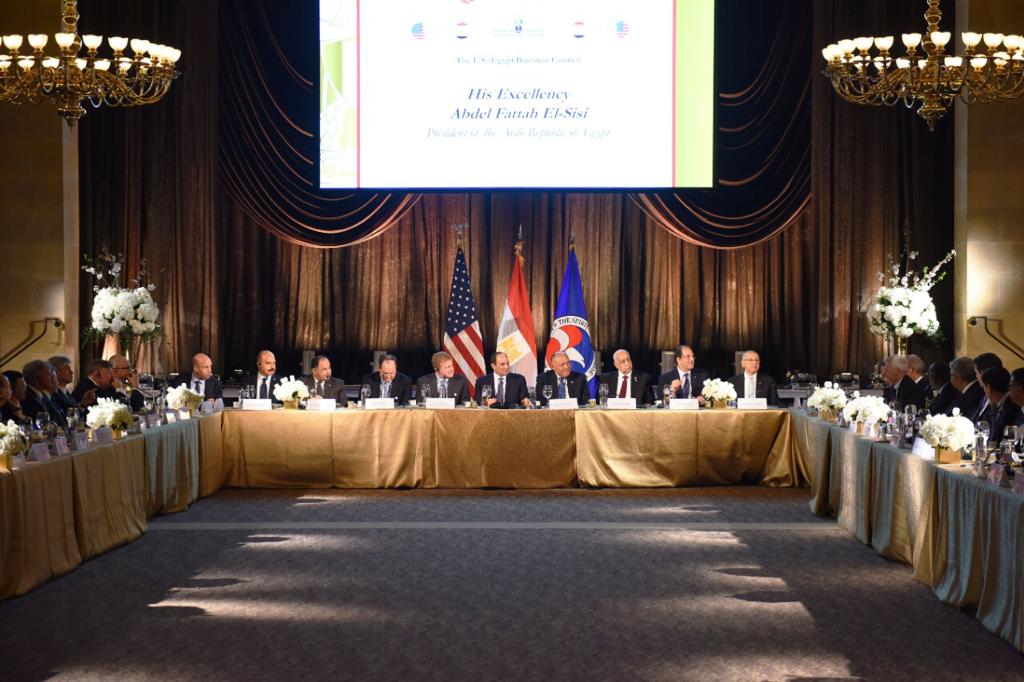 The attendees praised the progress made in Egypt's economic reform efforts, particularly through the measures taken to improve and encourage the investment environment, as well as the major national projects being implemented, which contributed to Egypt being a model and success story for cooperation with the International Monetary Fund, while they advised to work during the coming period on promoting US investments in Egypt in various fields, especially health, energy, technology and tourism.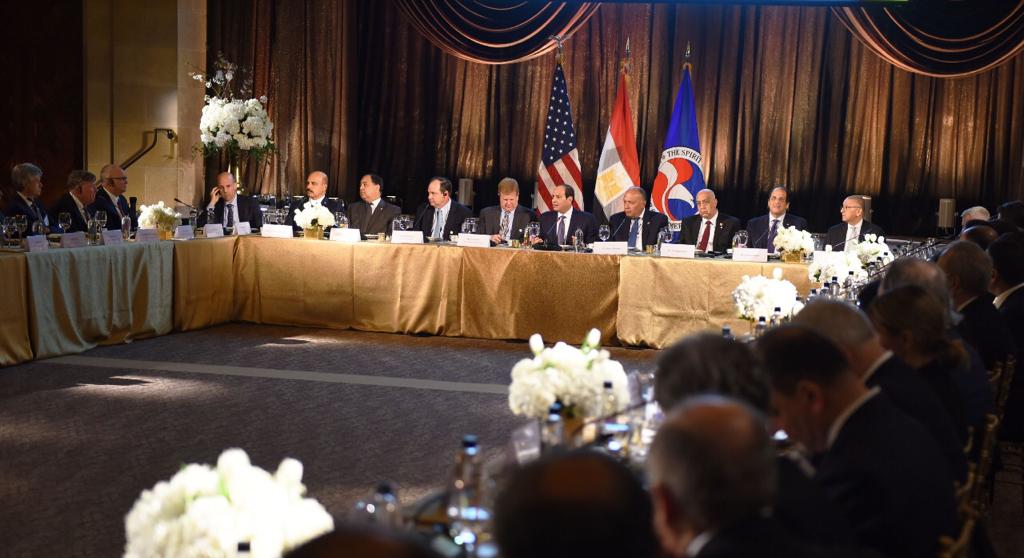 Ambassador Bassam Radhi, Spokesperson for the Presidency added that the President affirmed Egypt's intention to continue the efforts of reform and development in light of the implementation of the National Strategy for Sustainable Development 2030, stressing Egypt's appreciation of the special strategic relationship with the United States and welcoming the increasing activity of American companies operating in Egypt.