WYF Participant Learns about Value of Diversity and Leadership among Youth
Dec 4, 2017 - 3 min read
About WYF: The World Youth Forum brought together thousands of young people from around the world to Egypt to hear President Abdel Fattah al-Sisi's message of peace and youth opportunity. The theme was "We Need to Talk" and the forum gave a platform to thousands of leaders of youth networks, heads of states, media figures and young Egyptian expats. Participants engaged global policymakers and experts about youth issues around peace, prosperity, harmony and progress in the world.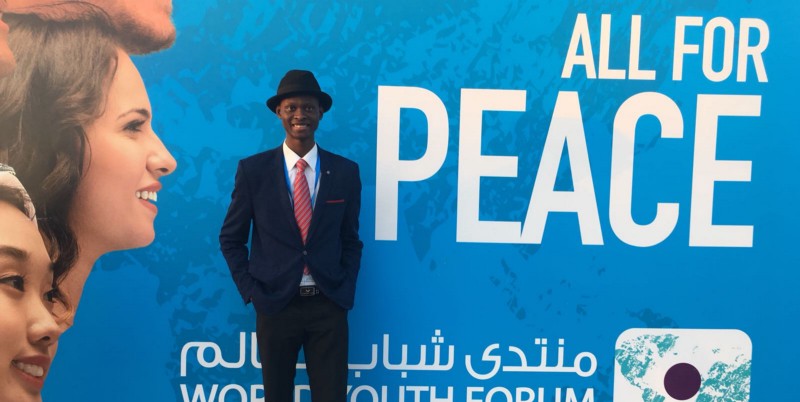 Emamsy R Mbossa at World Youth Forum in Sharm El Sheikh (November 2017).
Emamsy R Mbossa shares his experiences and thoughts from the forum.
My decision to apply for the World Youth Forum was easily one of the best decisions of my life. I remember when I saw the event online, I was so excited and knew I needed to apply immediately. I was especially motivated by the opportunity to learn about Egypt's historical role in world civilization.
Arriving in Egypt, I was immediately impressed by the organization of the event. I saw flyers about the forum right when I got off the flight, and it felt so special to be part of such a great event. Secondly, the Egyptian people made a great impression on me, particularly their cheerfulness and friendly demeanor. I also thought the city was amazing. Our group was always made to feel safe and secure, no matter the situation. When I met President Abdel Fattah al-Sisi, I couldn't believe how humble he was. It was an honor to get to see firsthand what a kind heart he has. During the event he was always ready to listen and discuss our ideas with us, regardless of who they came from. I can confidently say that he is a good leader and I look up to him. He is a role model for me to follow from now on.
The World Youth Forum was a great opportunity for me to learn about the importance of diversity in the world. It helped me realize that no matter how different we are, we, as young people, face the same challenges and have the same issues no matter where we come from. This forum helped me develop valuable leadership skills like decision-making, which I am sure I will use in the future. As a student of international relations, it was invaluable to be able to hear first-hand from experts about their thoughts on important and relevant topics in the world today.
Ultimately, the World Youth Forum was the perfect place for me to grow. As I write this I reflect on how much I will miss the moments I've had and the beautiful people I've met here. I am happy to say I have found a new family here and a place to call home in Egypt.
About: Emamsy R Mbossa was born in Brazzaville, the capital city of Congo. He is passionate about literature, law and politics. He graduated with a Bachelor's in Public International Law from Abdel Malek Essaadi University in Tangier, Morocco before coming to the United States. He is currently studying International Relations in New York. In his free time, he likes to play guitar, read, write poetry, photograph, and travel.