Secretary Of State Mike Pompeo Is To Give A Speech Tomorrow In Cairo
Jan 9, 2019
CAIRO – 9 January 2019: Secretary of State Michael R. Pompeo embarked on his Middle East visit on January 8. His first stop was Amman, Jordan, and his second stop will be Cairo, Egypt on January 10. The Secretary's visit will also include Manama, Bahrain; Abu Dhabi, United Arab Emirates; Doha, Qatar; Riyadh, Saudi Arabia; Muscat, Oman; and Kuwait City, Kuwait.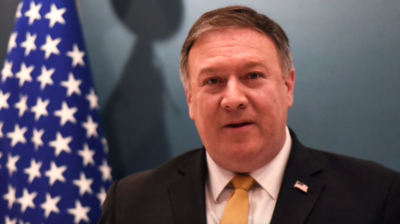 Via his official Twitter account, on the occasion of leaving the US territory to start the Middle East tour, Pompeo confirmed that his visit to the Middle East is to send a clear message that the United States is committed to fighting terrorism and defeating ISIS.
To express his welcome, US Charge d'Affaires, Tom Goldenberg tweeted his greeting to the Secretary of State.
According to Al Ahram, upon his arrival in Cairo, the Secretary will meet with Egyptian leaders to discuss critical regional issues, including Iran, Gaza, and counterterrorism, as well as economic and energy cooperation. The secretary will be meeting with our Foreign Minister Sameh Shukri at the Foreign Ministry. During his visit to Cairo, Pompeo will be particularly critical of the policies of the former US President Barack Obama's administration toward the Middle East, which has caused more than one Arab country to slide into chaos and risk terrorism.
Pompeo also will deliver a speech at the American University in Cairo on the United States' commitment to peace, prosperity, stability, and security in the Middle East.
This is not Pompeo's first visit to Cairo, in June 2017, while he was CIA director met with President Abdel-Fattah El-Sisi  in Cairo to discuss the strong security and military ties between Cairo and Washington, assuring that Cairo is keen to boost cooperation to face regional and international challenges, including terrorism.