Sisi acquires the credentials of 15 new ambassadors, most notably Sudan, Ethiopia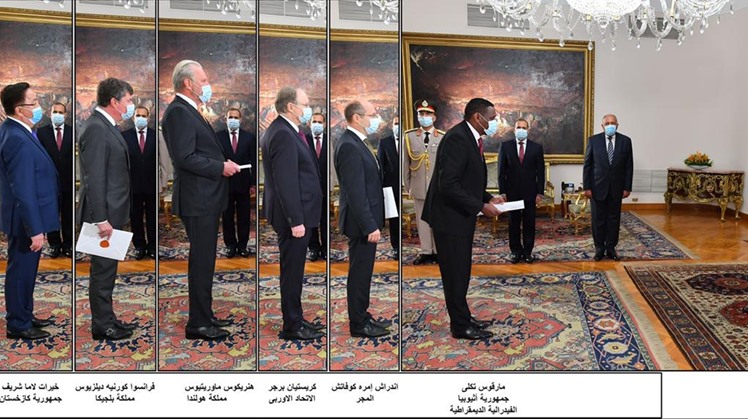 Wed, Sep. 23, 2020
CAIRO- Sept 23, 2020: President Abdel Fattah El Sisi received on Wednesday the credentials of 15 new ambassadors in Cairo.

The president welcomed the new ambassadors, underlining Egypt's keenness on enhancing cooperation with the ambassadors' countries in various domains.

The new ambassadors are Fernando Alberto Arroyo of East Uruguay, Manuela Franco of Portugal, Archbishop Nicolas Henry of Vatican, Amira Oron of Israel, Hong Jin-wook of Korea, Md Monirul Islam of Bangladesh, Mohamed Elias of Sudan, Svend Olling of Denmark, Markos Tekle of Ethiopia, Henricus Mauritius Schaapveld of Netherlands, Francois cornet d'elzius of Belgium, Khairat Lama Sharif of Kazakhstan and Bomo Frank Sophonia of Lesotho.

The president also received Head of EU Delegation Ambassador Christian Berger as well as the Hungarian ambassador.