Details of the tour of the Minister of Tourism and Antiquities to visit the Greco-Roman Museum in Alexandria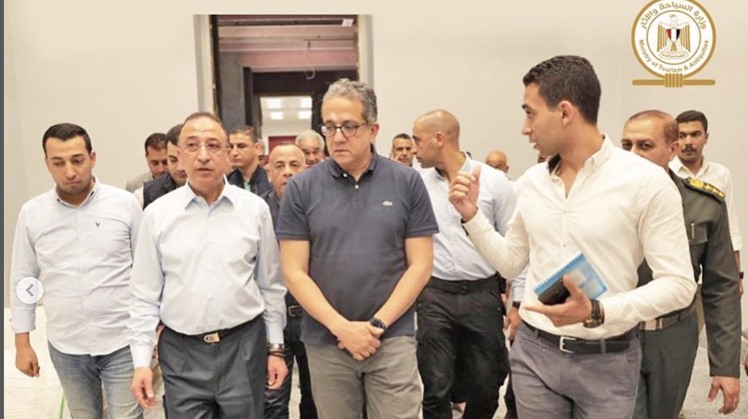 Mon, Jun. 20, 2022
Today, Dr. Khaled El-Anany, Minister of Tourism and Antiquities, visited the Greco-Roman Museum in Alexandria, and was received by Major General Mohamed El-Sharif, Governor of Alexandria, in order to find out the executive position and the latest developments in the work of its restoration and development of the tourist services area in it. For the Egyptian tourist destination, and to put the city of Alexandria on the world tourism map.

He was accompanied during the tour by Dr. Mostafa Waziri, Secretary-General of the Supreme Council of Antiquities, Professor Ahmed Obaid, Assistant Minister for Affairs of the Minister's Office Sector, Brigadier General Hisham Samir, Assistant Minister for Projects, Major General Ihab Salem, Assistant Minister for Financial and Administrative Affairs, Professor Moamen Othman, Head of the Museums Sector at the Supreme Council of Antiquities, and a number of members of the Supreme Committee for the presentation scenario. The museum is headed by Dr. Ali Omar, Dr. Mahmoud Mabrouk, the minister's advisor for museum exhibition affairs, Dr. Osama Abdel Wareth, director of the Children's Museum, director general of financial and administrative affairs at the Nuba Antiquities Fund, director and agent of the Nuba Archeology Museum, and Dr. Nadia Hajjaj, a member of the presentation scenario for the Greco-Roman Museum.

The tour included an inspection of the general site of the museum and its external facades, the museum building, the ground floor, the mezzanine, the first floor and the administrative building, in addition to inspecting the works of the museum display scenario and the visitor services area.

During the tour, Dr. Khaled Al-Anani stressed the need to pay attention to the visitor services area in the museum and to provide and equip a medical clinic for first aid, in addition to introducing some modifications to the itinerary of the visit inside the museum to make it easier and easier for visitors while enabling them to view all the unique treasures of the museum.

He also directed that some modifications be made to the museum display scenario to enrich it and make it more attractive to visitors, stressing the need to expedite the rates of work implementation, intensify efforts, work around the clock and adhere to the specific timings for the completion of all project works according to the timetable specified for the opening of the museum that Alexandria residents are waiting for, which It is considered an essential attraction for the city's inbound and outbound tourism.