Egypt Welcomes African Youth Participating in Nasser Fellowship for African Leadership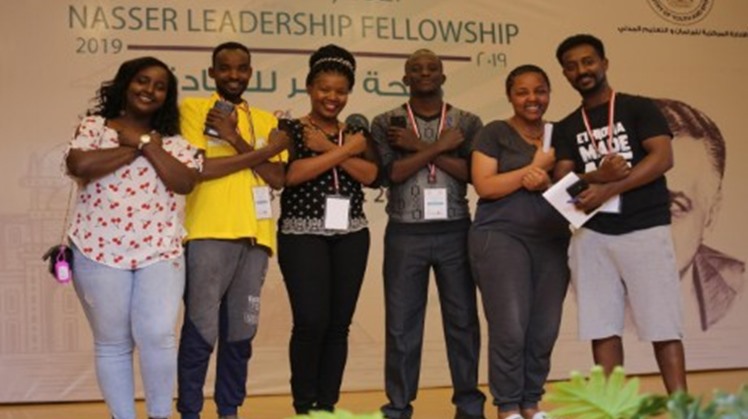 Sun, Jun. 9, 2019
CAIRO – 9 June 2019: Under the supervision of Prime Minister Moustafa Madbouly, Egypt's Ministry of Youth and Sports welcomed a number of young people from African countries who will participate in the Nasser Fellowship for African Fellowship, held from 8 to 22 June 2019 in cooperation with the Pan-African Youth Union.

One hundred executive leaders from African Union member states (Sudan, South Sudan, Rwanda, Zambia, Gambia, Kenya, Algeria, Somalia, Ghana, Nigeria, South Africa, Liberia, Namibia and Uganda) will join the fellowship as decision-makers from both the government and private sectors, youth from civil society, heads of national councils for youth, faculty members at universities, researchers in strategic research centers, members of trade unions, journalists and media professionals.

The theme of the fellowship is "Gamal Abdel Nasser and Africa." and the program will kick off with a visit to the museum and mausoleum of Gamal Abdel Nasser, as well as a meeting with the former dean of the Faculty of Research and African Studies, Dr Sayed Fleifel.

The fellowship is one of the mechanisms launched by the African Union (AU) Commission on Science, Technology and Human Resources to implement the "1 Million by 2021" initiative, aiming at training one million young Africans by 2021, and popularizing the authentic Egyptian experience in national institution-building and to create a new generation of transformational young African leaders with a vision that aligns with the Egyptian presidency of the African Union in serving the goals of African unity through integration, training, capacity building, the development of strategic visions, as well as organising meetings of the most influential young leaders at the continental level.