Sun, May. 12, 2019
CAIRO – 12 May 2019: Under the supervision on Dr. Rania Al-Mashat, Minister of Tourism, a the ceremony that celebrated the documentary film series produced by the Italian MediaSet channel in cooperation with the Egyptian Ministry of Tourism took place on May 11 at the Mena House Hotel.
The Italian broadcaster Roberto Giacobbo, the host of "Freedom Oltre Il Confine", presented a four-minute documentary film about the Grand Egyptian Museum and will be broadcast on Italian television as part of a series of documentary films produced by the Italian MediaSet in cooperation with the Ministry of Tourism.
The episodes are broadcasted on Freedom Oltre Il Confine from Egypt, presented by the famous Italian broadcaster Roberto Giacobbo with archaeologist Dr. Zahi Hawass.
This comes in the light of the Ministry of Tourism's efforts to diversify the promotion platforms and modernize the marketing mechanisms for Egypt, which is one of the most important axes on which the structural reform program depends on the development of the tourism sector.
Furthermore, this comes in the framework of the Ministry's current promotional plan to open windows to the outside world through continuous communication with the media Foreign cooperation with the largest and most important international television channels that have credibility.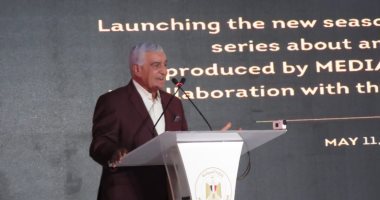 The footage of the documentary films, which will be displayed on Italian television, as well as the pages of the Tourism Promotion Authority through social media sites, were shown in archaeological sites and on the pyramids. Italian Channel 4 official Sebastiano Lombardi and director of one of the channels concerned with tourism and archeology said that they worked as a team in cooperation with the Ministry of Tourism and Dr. Zahi Hawass, the former Minister of Antiquities, to show the beauty of Egypt and its civilization, most notably the engineering construction of pyramids, history, power and beauty as an added value and how they strive to show these values ​​to the world.
"We are trying to show how special and attractive Egypt is in light of the great momentum of civilization," declared Sebastiano Lombardi, "We participated in filming the Freedom Ortle Il Confine program, which narrates the beauty of Egypt and the parts of history to convey to the viewers. Tourists have many dreams about the beauty of the civilization of ancient Egyptian, we seek to portray this beautiful image to them."