Inauguration of the Exhibition of Creations of Italian Architects, in the presence of the Ambassador of Italy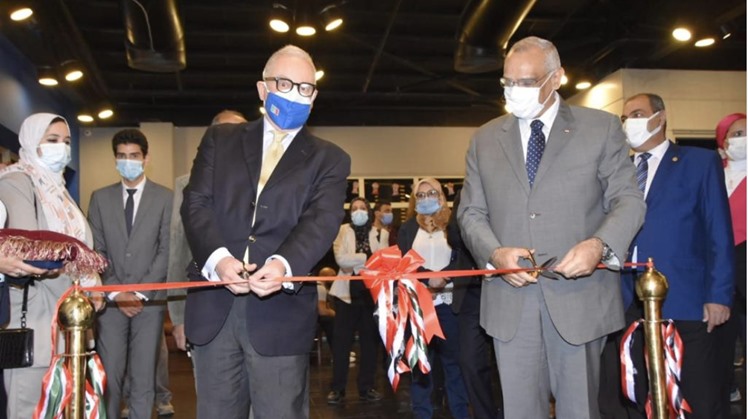 Sat, May. 1, 2021
Engineer Mohamed Abu Saada, head of the National Organization for Cultural Coordination, the Italian ambassador to Egypt, Gampaolo Cantini, and Dr. Davide Scalmani, Director of the Italian Cultural Institute, inaugurated an exhibition of creations of Italian architects on the land of Egypt, which is being held by the National Organization for Civilization Coordination in cooperation with the Italian Embassy in Egypt on the occasion of the celebration of the World Heritage Day, which continues during The period from 26 - 28 April 2021 at the Al Hanager Art Center at the Opera House.

The head of the agency explained that the idea of ​​the exhibition came due to the influence of Egyptian urbanism by Italian urbanism and Italian architects who had a clear impact and imprint on Egyptian urbanism, and the urbanization reflected the extent to which the Egyptian culture was affected by Italian culture and their merging with each other, as the Italian architects have their mark on the palaces, the most important of which was a palace. The park and Ras El-Teen in Alexandria by the architect Ernesto Frucci, the Islamic Museum at Bab El-Khalq by the architect Enfonso Matsikalco, as well as the Abu El-Rish Hospital in Cairo, the Italian School in Alexandria and the monument with the two flags and other distinguished architectural buildings, and they also had a clear impact on the most important mosques, which are a milestone in Egyptian architecture and history Such as the Omar Makram Mosque in Tahrir and Commander Ibrahim and Marsa Abu al-Abbas in Alexandria, in which the Italian architect was influenced by Islamic and Mamluk architecture, and this combination resulted in a distinct and unique architectural character for the most important buildings of a distinct architectural character that deserve study and documentation, including the Institute of Arab Music in Cairo, Prince Youssef Kamal Palace and Princess Palace The grace of God Tawfiq and the Society Hografi and Adi D is one of the distinguished buildings documented by the civilization coordination through this exhibition and a book was issued in it. The documentation and preservation of these buildings is the result of a study and in-depth research that monitored the Egyptian-Italian experience that blended and resulted in a constructed urban culture full of beauty and a distinct urban pattern that deserves study and documentation.

The exhibition was attended by many public figures, media professionals, architects and the Italian community, who expressed their great admiration for the exhibition.