Egypt's first lady welcomes Queen Rania of Jordan visit to Cairo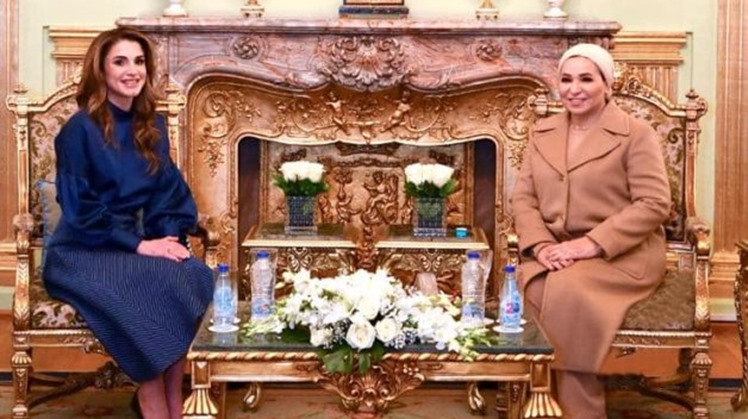 Tue, Jan. 17, 2023
CAIRO – 17 January 2023: Egypt's first lady Entesar al Sisi welcomed Queen Rania of Jordan visit to Cairo on Tuesday.

On her official Facebook page, Egypt's first lady Entesar al-Sisi said that she was "pleased with the visit of Queen Rania of Jordan, to her second country, Egypt."

She added that the visit was an opportunity to discuss Egypt's efforts in several issues including empowering women, youth and people of disabilities,

"Queen Rania's visit was an opportunity to discuss the unprecedented Egyptian steps to empower women, people of disabilities and youth, in line with the comprehensive development plan and Egypt's Vision 2030." Egypt's first lady wrote.

She added that they also reviewed "Egypt's efforts in the social protection sector, especially Takaful and Karama Program, "Haya Karima" National project along with the Egyptian Red Crescent's voluntary activities and public health initiatives."

President Abdel Fattah Al Sisi praised the strength of historic ties between Egypt and Jordan along with the brotherly ties, cordiality and common fate shared by the two peoples, asserting the importance of sustained coordination among the two sides.

Sisi's remarks came during meeting with Jordanian King Abdullah II bin Al Hussain

residential Spokesman Ambassador Bassam Radi said that President Sisi welcomed the King of Jordan, commending the strong historical relations between Egypt and Jordan, as well as the close bonds and common destiny the two countries and peoples share.

Sisi also stressed importance of continued coordination and consultation between both sides, in light of alignment in views and interests as well as the challenges the region is facing.

The King of Jordan expressed his country's appreciation for the leadership and people of Egypt and also expressed that Jordan welcomed the level of joint coordination with Egypt in dealing with the various crises in the region that threaten the security and stability of Arab peoples.