Saudi Crown Prince sends cable to president Sisi to express 'deepest gratitude' for warm reception, 'hospitality'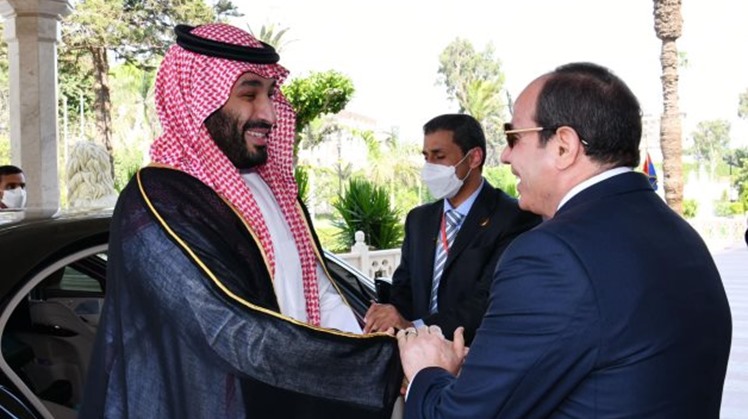 Wed, Jun. 22, 2022
CAIRO – 21 June 2022: Saudi Crown Prince Mohamed bin Salman sent a cable of thanks to President Abdel Fattah El Sisi, following his departure from Cairo after an official two-day visit to Egypt on Tuesday.

In the cable whose contents were published by the Saudi Press Agency, the crown prince said: "As I leave your brotherly country, I express my deepest gratitude and appreciation to Your Excellency for the warm reception and generous hospitality accorded to me and my accompanying delegation".

"The discussions and consultations we had, affirmed the two sides' keenness on enhancing relations between the two sisterly countries, and a continuation of coordination and consultation in all fields, under the leadership of the Custodian of the Two Holy Mosques King Salman bin Abdulaziz Al Saud and Your Excellency, which aims to achieve the interests of the two countries and peoples and enhancing security and stability in the region," Mohamed bin Salman added.

"I wish Your Excellency good health and happiness, and to Egypt and its brotherly people further progress and prosperity," the crown prince concluded.

In a final statement at the end of a visit paid by Saudi Crown Prince Mohamed bin Salman to Egypt, the two countries pressed for stimulating partnership between their private sectors and creating an attractive investment environment in various fields, including tourism, energy, healthcare, transport, logistics, ICT, real estate and agriculture.

The final statement shed light on official talks held between President Abdel Fattah El Sisi and Prince Mohamed bin Salman, which reflected close relations between the two countries.

During the talks, the two leaders praised high-level relations enjoyed by both countries and tackled the latest regional and international developments.

They affirmed the unified Egyptian-Saudi stance towards various regional and international issues of mutual concern, the communiqué said.

According to the final statement, the two countries agreed to reinforce and upgrade economic partnership between them through achieving integration between the opportunities available under Saudi Vision 2030 and Egypt Vision 2030.

The two sides welcomed the 8-billion-dollar deals signed by the private sectors of both countries.

The final statement cast light on a Saudi plan to pump investments in Egypt at a total of 30 billion dollars.

The two countries also announced the launch of a 10-gigawatt electric power project, which will be implemented by the Saudi ACWA Power company.

The two sides praised the volume of trade exchange and expressed their determination to conclude an investment promotion and protection agreement as soon as possible.