Egypt's President Sisi meets with Jordan's King Abdullah II, UAE Crown Prince of Abu Dhabi Sheikh Mohamed bin Zayed Al Nahyan in Cairo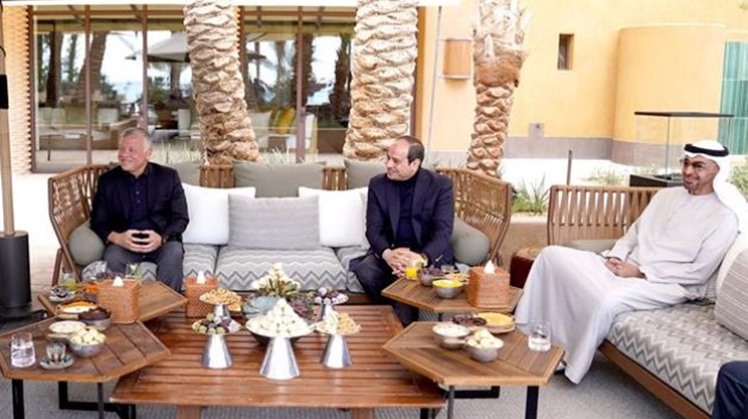 Mon, Apr. 25, 2022
CAIRO – 25 April 2022: Egypt's President Sisi met on Sunday with Jordanian King Abdullah II, and Deputy Supreme Commander of the UAE Armed Forces, and Crown Prince of Abu Dhabi Sheikh Mohamed bin Zayed Al Nahyan at the Cairo International Airport, said Egyptian Presidential Spokesperson Bassam Rady in a statement.



This is the second meeting for the three leaders, along with Iraqi Prime Minister Mustafa Al-Kadhimi, in a month as they met on March 25, 2022, in Aqaba.



The March meeting discussed ways to enhance joint cooperation between the four countries in all fields, especially trade and economy., said the Egyptian Presidency.



"They also exchanged views and visions on the overall political and economic situation at the regional and international levels, especially with regard to facing the repercussions and effects of the current global conditions on food security, trade and the energy sector in order to maintain regional stability and security," the Presidency added in a statement.