Trump Adviser Sorial hails Egypt's medical support to US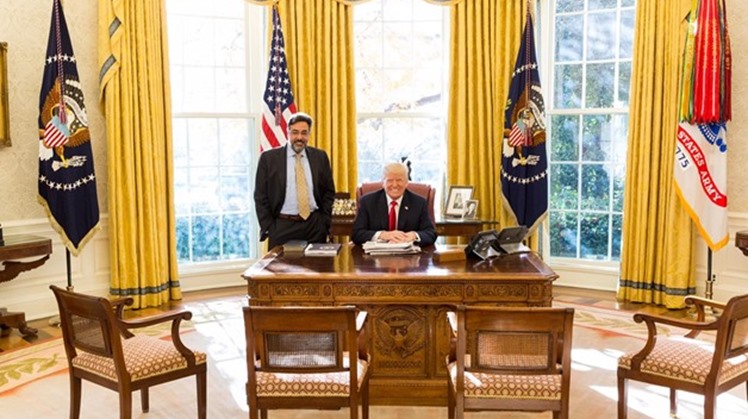 Wed, Apr. 29, 2020
CAIRO – 29 April 2020: Executive Vice President of the Trump Organization George Sorial has said that he felt proud when he learned that Egypt had sent a military plane loaded with medical aid and supplies to the United States to help it confront the scourge of the novel coronavirus (COVID-19).

The news made me proud for several reasons, one of the earliest memories I have om the childhood in Egypt is how kind the Egyptian people are," Sorial has told the American Pulse in an interview.

"I can remember multiple times when our broke down in Cairo and unlike many places in the world, within minutes, five to six people came to help us, and I thought that the act of donating the Personal Protective Equipment (PPE) shows how kind the Egyptians are."

A C-130 military aircraft loaded with medical supplies, including include anesthesia drugs and antibiotics as well as body bags, masks and testing swabs, arrived in the US following assistance to both Italy and Britain.

Sorial further added that Egypt's contribution towards the American people is a wise and smart move by the Egyptian political administration led by President Abdel Fattah al-Sisi.

"There is a saying that you know who your friends are when you go through some bad times," he said.

He also added that he is proud as an Egyptian-American by the friendly ties between Egypt and the United States of America.

In response to the aid, US Ambassador to Egypt Jonathan R. Cohen posted a video to thank the Egyptian government and people.

"On behalf of the American people, the US government, and the U.S. Embassy in Cairo, I want to thank the government and people of Egypt for their generous contribution of medical supplies which will help us confront the COVID-19 crisis," Cohen said.

"At this difficult time, a generous donation like the one you just made is a great symbol of our solidarity and the value you place in our strategic partnership."

George A. Sorial, the Executive Vice President and Counsel to The Trump Organization for over twelve years, working directly alongside Donald J. Trump until his inauguration in January 2017. He then became EVP and Chief Compliance Counsel to the business, reporting directly to Donald Trump Jr. and Eric Trump.