Mon, Dec. 24, 2018
CAIRO – 24 December 2018:
Egypt's Army Chief-of-Staff Mohamed Farid held a meeting on Sunday with the US Secretary of the Navy Richard Spencer and an accompanying delegation in Cairo.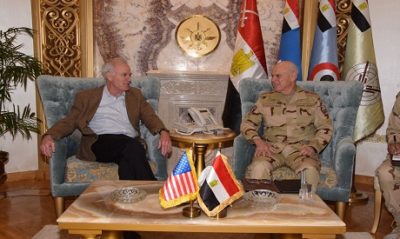 During the meeting, the two parties discussed means of enhancing military cooperation, exchanging expertise and joint naval exercises to enhance and upgrade the combat capabilities of both militaries. The meeting also tackled a number of issues of interest to the Egyptian and US militaries. The US Secretary of the Navy hailed the level of relations and cooperation between the armed forces of both countries; which constitute additional horizons for joint cooperation in many other fields. Spencer has termed Egypt as "a vital regional partner" that plays a major role in ensuring free and open access to the Mediterranean Sea and the Red Sea. In a statement on Sunday, the US Embassy in Cairo quoted Spencer as saying that Egypt and the US have common interests, such as stopping the flow of smuggled goods and fighting human trafficking. He added that he paid his first visit to Egypt this week, during which he held talks with senior Egyptian officials on means of boosting security cooperation between the two countries. The joint EAGLE SALUTE and BRIGHT STAR 18 naval exercises have clearly highlighted the important role played by American naval forces in maintaining regional maritime security, Spencer said. Such naval drills reinforce military relations between the Egyptian and American forces in the region, the embassy said.